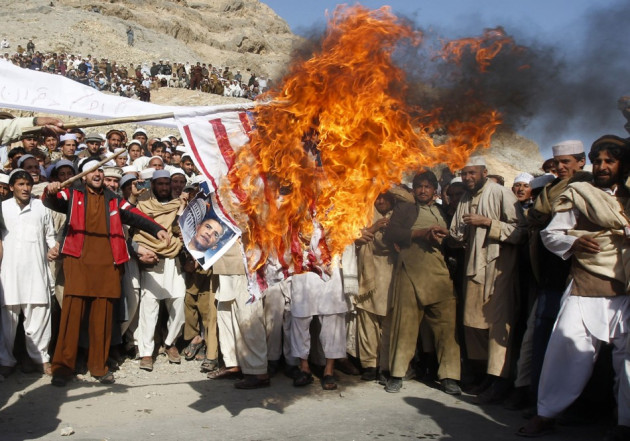 US troops, including six army soldiers and three marines, have escaped criminal prosecution as an investigation found "no malicious intent to disrespect Islam" in the incidents of Koran burning and urination on the bodies of Taliban fighters.
"I absolutely reject any suggestion that those involved acted with any malicious intent to disrespect the Koran or defame the faith of Islam," wrote Brigadier General Bryan Watson, the investigating officer.
The two incidents sparked widespread violence and rioting that claimed at least 30 lives and left two US troops dead. Two US military advisers were also shot dead at the interior ministry following the incident.
Those involved could receive "administrative punishments" which may include demotions, extra duty or forfeiture of pay. It could also result in the end of military career for the troops.
The six soldiers include four officers and two non-commissioned officers.
A spokesman for Karzai's office said they would review the decisions. Earlier, Karzai had asked for a public trial of those involved.
The religious materials including up to 100 Korans and other items were burnt in a pit used to burn garbage at the Bagram air field, a major US air base in the northern part of the Afghan capital Kabul.
US officials maintained that the boxes containing the materials were dragged out by Afghan workers. Copies of the Koran and other books were removed from the Parwan Detention Centre on suspicion that the detainees were passing secret messages using the books.
In the video of the incident, four marines in uniforms were seen urinating on the bodies of three Taliban fighters. The video that appeared on YouTube showed one marine saying "Have a good day, buddy" to the bodies.
All the three marines pleaded guilty of charges ranging from urinating on the Taliban soldiers and posing for photograph, videotaping the incident, failing to report the mistreatment of human casualties and lying to the investigators.
The incident even resulted in President Barack Obama apologising to Afghan President Hamid Karzai.