Kunming Massacre: Who are Xinjiang Separatists China Blames for Attack? [VIDEO]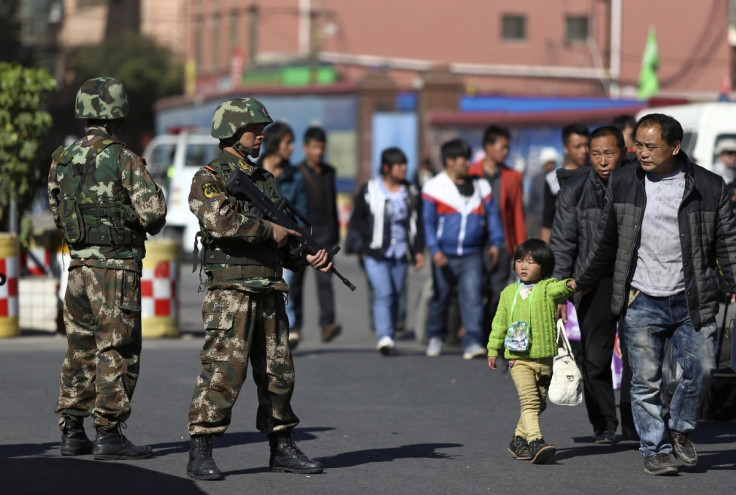 Chinese officials have blamed separatists from the north-western Xinjiang region for the knife attack at Kunming railway station that left 33 people dead and 130 wounded.
Authorities described the incident as an "organised, premeditated, violent terrorist attack".
The Kunming city government later said that evidence from the scene pointed to separatists from Xinjiang as being responsible for the attack.
Some of Xinjiang's minority Uighur Muslims want autonomy from Chinese rule and an end to state suppression of their religion. The Uighurs are a Turkic ethnic group living in Eastern and Central Asia.
According to the Telegraph, "It is the first time the Uighurs have been blamed for carrying out such a large-scale attack so far from their homeland, and follows a smaller incident in Beijing's Tiananmen Square in October that shook the Communist Party leadership."
The attack highlights growing social unrest amid widening inequality and increasing tensions between the state and some ethnic groups including the mostly Muslim Uighur minority in Xinjiang.
The ruling Communist Party last November set up a state committee to better coordinate security issues as it faces dissent at home and expands its military reach.
"The problem in China is that there's no mechanism for people who think they are victims of discrimination to seek redress," Willy Lam, an adjunct professor at the Center for China Studies at the Chinese University of Hong Kong, told Bloomberg.
"There is no dialogue between the authorities and those with grievances, so they resort to violence, and from official reports it appears the frequency and intensity of those outbursts is increasing."
Kunming is the capital of southwest Yunnan province, home to at least 25 ethnic minority groups who number 15.5 million in total, about a third of the provincial population.
Tensions between the state and the Muslim Uighur minority in Xinjiang, a resource-rich autonomous region inside China, have grown, with attacks in other parts of China.
Chinese citizens are resorting to violent measures to air their grievances. Last week, a man set fire to a bus in the southern city of Guiyang, killing six and injuring 35, to "get even" with society, Xinhua news agency reported.
So far, no one has claimed responsibility for Saturday's attack.
Watch the video of the police clear-up after the mass knife attack at Kunming Railway Station
© Copyright IBTimes 2023. All rights reserved.