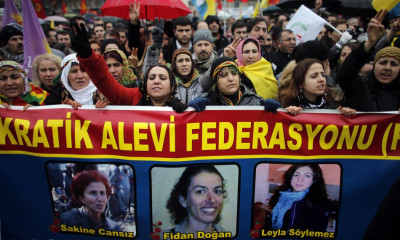 Thousands of Kurdish demonstrators rallied in Paris to protest against the killing of three activists in the French capital earlier this week.
About 10,000 demonstrators gathered in front of the Gare de l'Est train station to pay tribute to the women and protest against the Turkish government, which they blame for the murders.
French police tightened security measures around the Turkish embassy in Paris. A similar protest was held in Istanbul.
"This attack came as discussions to find a solution to the Kurdish issue in Turkey were on-going," a statement by the French Kurdish Associations Federation (Feyka) read.
"France shares its part of responsibility. If the executors are not apprehended, France will be considered as an accomplice."
Sakine Cansiz, a co-founder of the Kurdish militant separatist group PKK, Fidan Dogan, a representative of the Brussels-based Kurdistan National Congress (KNK) and young activist Leyla Soylemez were shot dead at the information centre on Rue Lafayette, in the centre of Paris, earlier this week.
The three were shot in the head, a fact that led French interior minister Manuel Valls to say the deaths were "without doubt an execution".
The slayings came just a day after it was reported that Turkish officials and jailed PKK leader Abdullah Ocalan had agreed on a road map to end the three decade-long conflict between Turkey and the PKK, which has cost the lives of about 40,000 people thus far.
According to Turkish lawmaker Huseyin Celik, the killing was the result of "an internal feud" within the PKK.
French President Francois Hollande said he and other politicians had been holding regular meetings with one of the victims, triggering Turkish president Recep Tayyip Erdogan's fury.
Cansiz was a senior a prominent figure in the PKK and had obtained political asylum by France.
"How can you routinely meet with members of an organisation labelled a terrorist group by the European Union and being sought by Interpol? What kind of politics is this?" Erdogan said.
He also asked Hollande to "immediately disclose" the reasons for the meetings, "what was discussed and to what end he was in communication with these terrorists".
The PKK is recognised as a terrorist organisation by the EU and the US.
Nevertheless Turkey has frequently accused several EU countries, including France, of sheltering PKK "terrorists" by refusing their extradition.