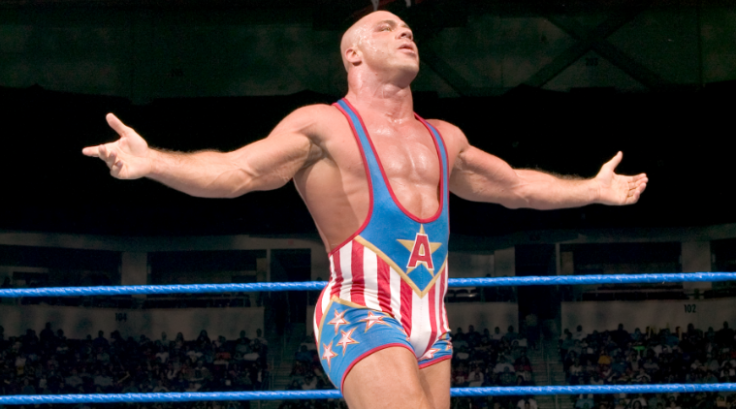 Kurt Angle, who has been named the first inductee into the 2017 WWE Hall of Fame, has revealed that he has one last fight left in him.
WWE recently witnessed Goldberg's return with a Brock Lesnar fight at Survivor Series following a 12-year hiatus from the squared circle. Fans now hope to see Olympic gold medalist Angle's comeback fight.
The 48-year-old quit the WWE way back in 2006, but has stayed active in independent circuits.
Speaking to ESPN, Angle talked about his possible return to the WWE.
"I figured they either decided they didn't want to do anything with me or they forgot," Angle said. "[Triple H] said they never forgot, and he called and told me this is the first thing they want to do. And whether I wrestle or not after this -- which is irrelevant right now -- I'm just really proud to be inducted into the WWE Hall of Fame."
Angle was asked about a comeback fight on former WWE ring announcer Lilian Garcia's podcast. The wrestling icon said that he wants to fight current WWE World champion AJ Styles.
"The one that I would really love to have a final match with right now is the kid that's the hottest right now in WWE and that's AJ Styles. I wrestled AJ in TNA, and I can tell you that he is every bit as good as Shawn Michaels. The thing with AJ Styles, and I want everybody to realize this–you don't have to do anything with him. He does all the work. So it's an easy match for you. He flies around the ring. He does all the bumping," Angle said. (Via Wrestlezone)
"AJ is a special individual where you can go in that ring and literally just stand in the middle and he does everything for you. I have never had a match with anybody that's been so easy, and every time I worked with him it was a five star match. So AJ's that kind of talent. He only comes around once in a lifetime, so I'd really love to shake it up with him one more time if I could."