Real Madrid were all but assured of another La Liga title at the turn of the year. Los Blancos had put together a run of 22 straight wins in official matches over a period of 105 days. The current Champions League holders had lifted the Fifa World Club Trophy and, last but not least, Cristiano Ronaldo had picked up his third Golden Ball. A wonderful script for Real fans, especially given that Barcelona and Atlético Madrid were showing bigger weaknesses than a season before.
But now, everything has changed.
Atletico, like the Phoenix rising from the ashes, have roared back into form in 2015. Led by French wonderboy Antoine Griezmann, Los Colchoneros reached the zenith of their improvement when they hammered Real Madrid 4-0 at the weekend, with goals from Tiago, Saul, Griezmann and Mandzukic, in a match which will be talked about in the Spanish capital for decades.
Atletico put Real Madrid to the sword during 90 minutes of magical football. Overhead goals, long and short range shots, wonderful slaloms and bravery at its finest –Diego Godin played 70 minutes with his nose broken. Everything that you can expect from the Champions League runners-up. The result is even more remarkable when one considers the overhaul Atletico have undergone in recent months.
When Chelsea signed Thibaut Courtois, Filipe Luis and Diego Costa, even the most optimistic Atletico supporters considered that this season's aims would be slightly different. A team under construction. Nobody expected Atlético to fight for another league title after last year's miracle. However, there is no place for surrender when it comes to Diego Pablo Simeone. No place for the word 'impossible.'
Atletico put their coach's favourite motto (partido a partido, match by match, week by week) into practice to win the league and almost claim the Champions League last spring. Under the same motto, they started building a new squad during the summer. Miguel Angel Moya didn't seem to be a reliable replacement for Courtois, probably the best European goalkeeper during 2013/14. But the 30-year-old Spaniard has managed to maintain the standards set by Courtois since joining for just €3M euros from Getafe.
A bigger expenditure was needed in order to keep up the scoring pace. Los Colchoneros paid €22 million to lure Mario Mandzukic from Bayern Munich, and the Croatian has justified his fee by scoring 11 goals in 19 games. But, more important than his figures is his alliance with Griezmann, the most impressive player in La Liga so far this season alongside Neymar and Messi.
The Frenchman, born in Macon 23 years ago, was the most ambitious of the signings made last summer by Enrique Cerezo. According to the Basque press, the former Real Sociedad player was on the wishlist of some of Europe's biggest clubs. Atletico finally paid €30m, the second-most expensive signing in the club's history, behind Radamel Falcao.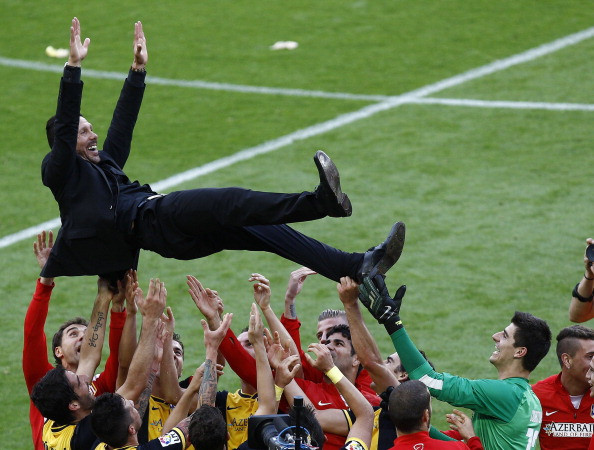 Griezmann has become the key player in Simeone's new squad. He has scored 12 goals since September. Nine goals in the last 10 matches, just behind Messi in same period. The rigours of last summer's World Cup took their toll early on, and Simeone's physical trainer, "El Profe" Ortega, had to earn his money with the new signing. But now Griezmann is on fire.
His versatility has impressed the whole world, as well as his range of skills. You don't expect a skinny player to be so adept at recovering possession, or scoring from headers - something Griezmann has managed five times this season. Yet Griezmann's biggest strength is the speed at which he can run with the ball at his feet, as he showed on Saturday in carving through the Real Madrid defence with a 60-metre run which almost produced the goal of the season.
The new French star has a GPS system in his brain that ensures he is always in the right place at the right time, one of the main reasons he is so potent in the air despite standing just 5ft 9in tall. Griezmann is almost infalible in one on ones, and the most important thing - and probably the main reason Atletico shelled out all that money - is his attitude. Since he made his debut for Real Sociedad at the age of 18, Griezmann has displayed an impressive physical condition.
Whereas some forwards try to run as little as possible to stay fresh in the box, the Frenchman's performances are based on a superb effort. He is his team's first defender, no matter whether we talk about Atletico, France or Real Sociedad. And yet Griezmann was dismissed by Olympique Lyonnais at the age of 13 due to his lack of physical strength.
If we add all these skills to an outstanding marketing potential – his celebrations, his likeability, even his hair cuts - it seems clear we have one of football's brightest stars of the next decade.
Atletico now lie third, just four points behind Real Madrid after an astonishing start to 2015 coincided with Griezmann's amazing explosion. Simeone has hit the nail on the head just in time.
Oier Fano Dadebat is a Spanish journalist who divides his time between San Sebastian and London. He writes about Spanish football for IBTimes UK. You can find out more about him on Twitter @oierfano.