Labour MP Helen Goodman was forced to apologise on Twitter after criticising Health Secretary Jeremy Hunt's Chinese wife. Her rather sarcastic comment on his wife came after the Conservative minister referred to his wife's nationality, suggesting that the government's tax credit cuts should encourage Britons to work as hard as people in China and the US.
The MP for Bishop Auckland, who is also a Treasury select committee member had tweeted: "If China is so great, why did Jeremy Hunt's wife come to England." Her comment drew wide condemnation not only from other political parties but also from her own Labour party.
A Labour spokeswoman said: "This does not represent the views of the Labour party. Helen will be reminded of her responsibilities as an elected Labour politician." Similarly, Labour peer Angela Smith said: "It is absolutely bizarre, I do not understand it at all. I do not know what she is trying to say, or the meaning behind it. But, yes, if that is her tweet, she should apologise ...
"Presumably, Mrs Hunt lives in the UK because she is married to Mr Hunt and she is in love with him and wants to be with him, so end of story. But I think there is a lesson for all here: That our partners and our families are not in the public domain to be criticised or commented on."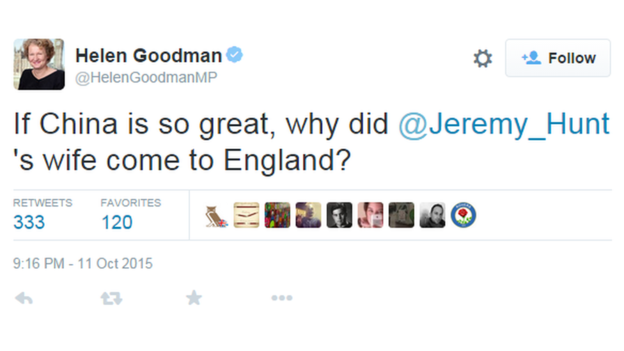 Labour MEP Claude Moraes also criticised Goodman and took her to task for not deleting her tweet. It was not long after that Goodman did just that. She deleted the tweet and posted an apology.
Liberal Democrat leader Tim Farron highlighted his Labour counterpart Jeremy Corbyn's call for an end to personal attacks on politics. "Terrible tweet from @HelenGoodmanMP. Never attack politicians' families. I hope she apologises. Clearly she missed the 'Kinder Politics' memo," he wrote.
When speaking at a fringe event at the Conservative party conference last week in Manchester, Hunt said: "My wife is Chinese, and if we want this to be one of the most successful countries in the world in 20, 30, 40 years' time there's a pretty difficult question that we have to answer which is essentially: are we going to be a country that is prepared to work hard in the way that Asian economies are prepared to work hard, in the way that Americans are prepared to work hard," he said. Hunt married his wife Lucia in July 2009 and they have three children.