Ed Miliband has delivered a stinging attack on Alex Salmond on the SNP leader's own turf today.
Labour party leader Miliband has accuse dSalmond of masterminding a "race to the bottom" by cutting taxes for businesses in competition with the Coalition government.
Addressing the Labour conference in Inverness, Miliband also condemned the Scottish National Party (SNP) for talking "self serving nonsense" in his wish for Scotland to be independent from the United Kingdom.
It came in a speech by Miliband to set out his vision for "One Nation" Britain, in Inverness, today (Friday).
Hitting back, the SNP said Miliband's visit to Scotland would only boost their own drive for independence.
Ahead of his speech, the Labour leader drew accusations from opponents that his party was planning to embark on a tax-and-spend campaign should he win the 2015 general election.
'Narrow nationalism'
Miliband told supporters in Inverness that Salmond preaches "a narrow nationalism that thinks the way Scotland prospers is in a race to the bottom across the UK, cutting corporation tax rates for powerful companies while doing nothing for working people.
"And a narrow nationalism that says if it is in the interest of the SNP then it is OK to do cosy deals with Rupert Murdoch."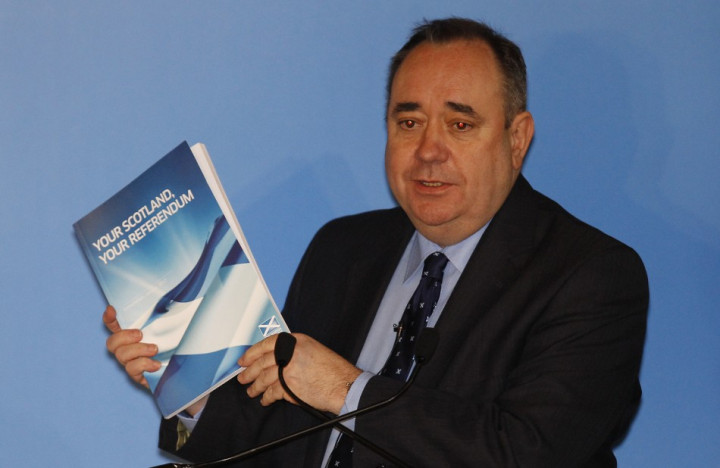 Voters in Scotland will decide whether to retain the country's current relationship with the UK in a referendum next Monday.
Ahead of the referendum, Miliband condemned the SNP's push for independence, saying:
"What about Alex Salmond? While we sketch a plan for our economic future, he spends his time drawing a line through the country. It's the same divisive politics that we've seen from the Conservatives, just for a different end.
"He divides between the people of Scotland and the rest of the United Kingdom.
He branded Salmond's party a bunch of little islanders, deriding the SNP's ideology as: "A narrow nationalism that somehow believes we're stronger apart than together. That is so obsessed with driving us apart, that it has no focus on the issues that really shape people's lives.
"A narrow nationalism that prays for Tory success so that he can convince people that the only way to get rid of the Tories is to get out of the UK.
"Praying for Tory success: have you ever heard such a self-serving, selfish, narrow-minded, blinkered, in-it-for-yourself, divide-and-rule piece of nonsense?"
Miliband also compared the problems Britain faces today to those which confronted Margaret Thatcher when she won power in 1979.
Scottish parliament MP Kenneth Gibson said: "Mr Miliband's visit to Scotland and his references to Margaret Thatcher come as another blow to the anti-independence campaign."