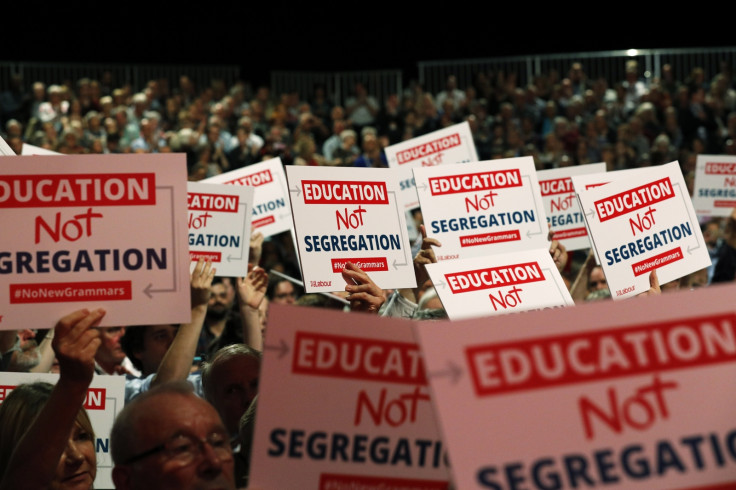 Labour MPs and supporters took to the streets across the country on Saturday (1 October) to protest Prime Minister Theresa May's grammar schools proposal, as part of leader Jeremy Corbyn's new Education Not Segregation campaign.
Speaking at the close of Labour autumn conference the previous week, Corbyn said his party would campaign "united" to expose the Conservatives' "divisive and damaging agenda for this country".
The drive will be the first major policy effort since Corbyn was re-elected as leader, and will also call for new higher education grants and improved support for parents and teachers.
A "No New Grammars" petition launched alongside the campaign had 54,144 signatures at the time of writing.
"Selection [in the UK education system] – or segregation as it should be called – entrenches division and increases inequality," said Shadow Education Secretary Angela Rayner MP at the party's conference.
"Selection is toxic. It tells a clever child they are stupid, strips a child of self-esteem and embeds inequality. Every child has potential. Every child can succeed. No child should be left out or left behind."
Andy Burnham, Shadow Home Secretary also backed the campaign as he hit the streets with Rayner in Ashton-under-Lyne.
There are currently 163 grammar schools in England, which admit pupils selected by an examination undertaken at the age of 11.
Under plans proposed by the Conservatives, current grammar schools would be allowed to expand and all schools in England would be given the right to apply to select pupils based on their academic ability.
The founding of new grammar schools was banned by Labour in March 2000. At the time, Labour's Education Secretary David Blunkett said the ban was an attempt to avoid "the whole debate in education concentrating on the issue of selection when it should be concentrating on the raising of standards".
The leaflet for Labour's new campaign stated: "The Tories' plan for grammar schools will segregate our children, providing a privileged education for a few and a second class education for the rest."
May has said the new grammar schools were needed to stop the rich dominating the best state schools, with many supporting her stance on Twitter.