A Labour government would introduce a "real Living Wage" of more than £10 ($12.90) per hour, John McDonnell announced on Monday (26 September). The shadow chancellor made the commitment as he addressed the party's annual conference in Liverpool.
The policy would see Labour better the government by £1 an hour in 2020, after former Chancellor George Osborne announced a new "Living Wage" in July 2015 to replace the Minimum Wage for over-25s.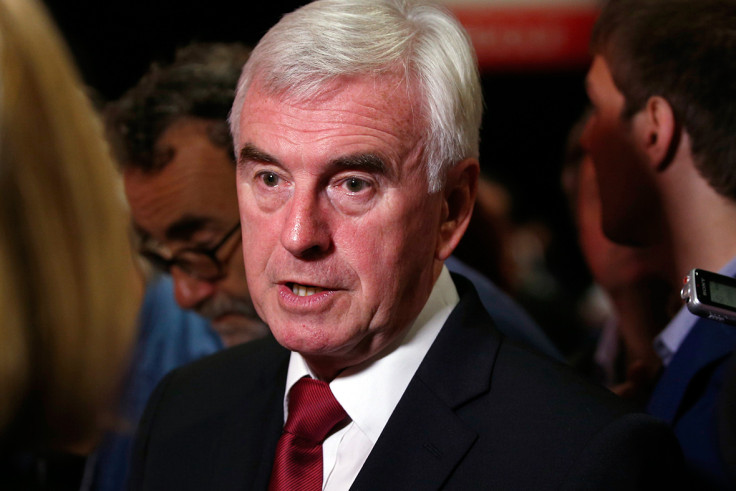 The statutory rate will climb from £7.20 an hour to £9.15 per hour by the end of the current parliament.
"Under the next Labour government, everyone will earn enough to live on. When we win the next election we will write a real Living Wage into law," McDonnell said.
"We'll charge a new Living Wage Review Body with the task of setting it at the level needed for a decent life. Independent forecasts suggest that this will be over £10 per hour. This will be a fundamental part of our new bargain in the workplace."
The Federation of Small Businesses (FSB) had already warned that hiking the rate will leave firms with "difficult choices". The business body surveyed its members in 2015 and found that more than a third (38%) of small businesses expect the new rate to negatively impact their business.
McDonnell, addressing concerns around Labour's policy, said he would publish proposals to help firms implement the Living Wage if he enters Number 11.
"We will be examining a number of ideas, including the expansion and reform of Employment Allowance, to make sure that this historic step forward in improving the living standards of the poorest paid does not impact on hours or employment," he added.
Elsewhere, McDonnell stressed that a Labour government would interventionist. "We will not stand by like this one has and see our key industries flounder and our future prosperity put at risk," he said.
The approach would also see the implementation of a "comprehensive industrial strategy", alongside a "renaissance" in British manufacturing. "Our government will create an entrepreneurial state that works with the wealth creators, the workers and the entrepreneurs to create the products and the markets that will secure our long term prosperity," McDonnell said.
The shadow chancellor, who also outlined Labour's policy to back access to the EU's single-market, concluded by channelling music legend John Lennon. "Under Jeremy's leadership, I believe that we can restore that optimism, people's faith in the future. In the birthplace of John Lennon, it falls to us to inspire people to imagine," he said.
"Imagine the society that we can create. It's a society that's radically transformed, radically fairer, more equal and more democratic."
What is the current National Living Wage?
Both full-time and part-time workers aged 25 and above will be eligible for the National Living Wage, which will be initially set at £7.20 an hour. The target is £9 an hour by 2020. This amounts to £15,000 a year if you work a 40-hour week.
Before the National Living Wage was introduced, the minimum wage for workers over 21 was £6.70 an hour, or around £13,900 a year if you work a 40-hour week.
So technically, the minimum wage will remain in place - but the new mandatory living wage will be a bonus for workers aged 25 and over. The change will not affect workers aged 24 and under who are currently being paid the minimum wage.