Recently Fitch Ratings revised its long-term outlook for Ladbrokes Plc, Britain's second-biggest bookmaker, to Stable from Negative with long-term IDR (Issuer Default Rating) at 'BB+' and short-term IDR at 'B'. The betting and gaming group is scheduled to release its first-quarter trading update on Thursday.
According to the rating agency, the revision in outlook was due to the sign of improvements in the competitive profile of Ladbrokes' UK retail and online business. The capability of the group to generate cash-flow and track record in maintaining a conservative capital structure, and rating agency's view that the risk of debt-funded M&A has somewhat decreased for the company.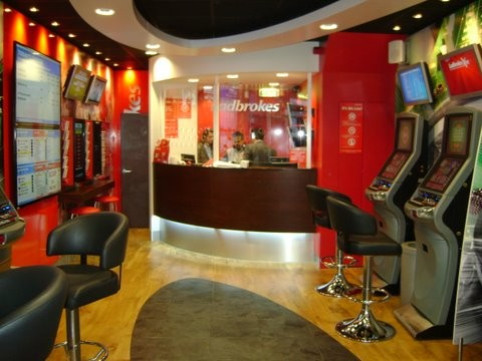 Shares of Ladbrokes declined by 1.9 percent after Finance Minister George Osborne announced that a new standard tax rate of 20 percent will be levied on the type of high stakes gambling machines that have driven growth at high street bookmakers in recent years.
"The new tax measures will cost Ladbrokes and William Hill between 12 million and 13 million pounds each year. We continue to believe that the industry remains at risk from an increasingly draconian tax regime," said Analysts at Jefferies.
For the full year ended December 31, 2011, the group reported net revenue growth of 0.4 percent to £980.3 million with operating profit of £193.5 million against the forecast of £187 million.
Ladbrokes' UK Retail operating profit increased by 2.1 percent to £152.3 million, whereas profit per shop increased by 6.9 percent year on year. The group expects operation costs of UK Retail to increase by around 3 percent on a like-for- like basis and 5 percent including the impact of new openings.
"We are continuing to make progress with our plan to reinvigorate Ladbrokes. The UK Retail business has performed strongly this year. OTC has continued to prove resilient in a weak economy with stakes marginally up on 2010. The contribution from machines has been excellent and we have grown profit per shop for a second consecutive year despite a comparatively poor gross win margin in the second half of 2011 and continued cost pressures. In 2012 we expect to build on this with further growth in machines,
robust cost control, a renewed focus on local market competitiveness and the evolution of the retail customer experience," said Chief Executive Richard Glynn while commenting on the growth and outlook.
The betting and gaming business group has planned to venture a two-year investment programme worth £50 million to improve the performance of its internet business. In 2011 the group opened 50 new shops and closed 21 and in 2012 it is targeting to open 60 new shops including 40 with new formats specifically designed to cater for changing trends in retail betting and gaming.
Below is a summary of sector comparisons in terms of price earnings, earnings per share, dividend per share, dividend yields, return on equity and price-to-book ratio. The table explains how the company is performing against its peers/competitors in the sector. The table below represents top ten companies based on market capitalisation.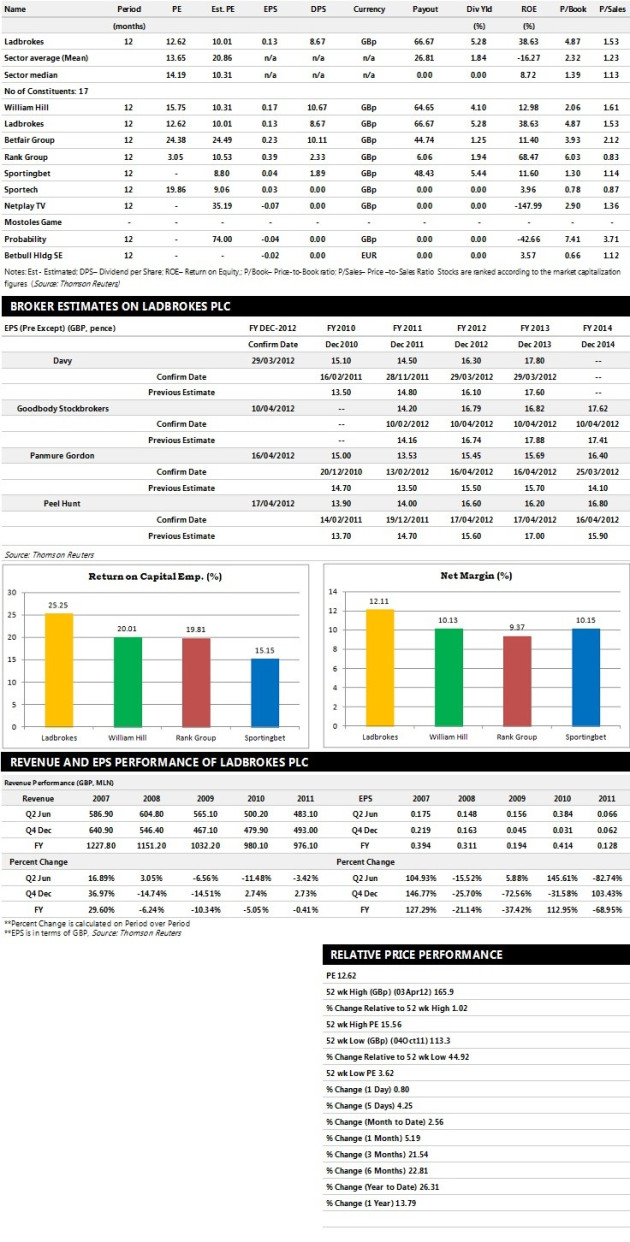 Brokers' Views:

- Peel Hunt gives 'Buy' rating on the stock with a target price of 173 pence per share
- Shore Capital Stockbrokers gives 'Hold' rating
- Panmure Gordon recommends 'Buy' rating with a target price of 183 pence per share
- Goodbody Stockbrokers assigns 'Outperform' rating with a target price of 165 pence per share
Earnings Outlook:

- Peel Hunt estimates the company to report revenues of £1,052.80 million and £1,064.10 million for the FY 2012 and FY 2013 respectively with pre-tax profits (pre-except) of £175 million and £173.40 million. Earnings per share are projected at 16.60 pence for FY 2012 and 16.20 pence for FY 2013.
- Panmure Gordon projects the company to record revenues of £1,026.80 million for the FY 2012 and £1,044.00 million for the FY 2013 with pre-tax profits (pre-except) of £162.80 million and £165.00 million respectively. Profit per share is estimated at 15.45 pence and 15.69 pence for the same periods.
- Goodbody Stockbrokers expects Ladbrokes to earn revenues of £1,044.57 million for the FY 2012 and £1,072.78 million for the FY 2013 with pre-tax profits of £173.84 million and £173.58 million respectively. EPS is projected at 16.79 pence for FY 2012 and 16.81 pence for FY 2013.