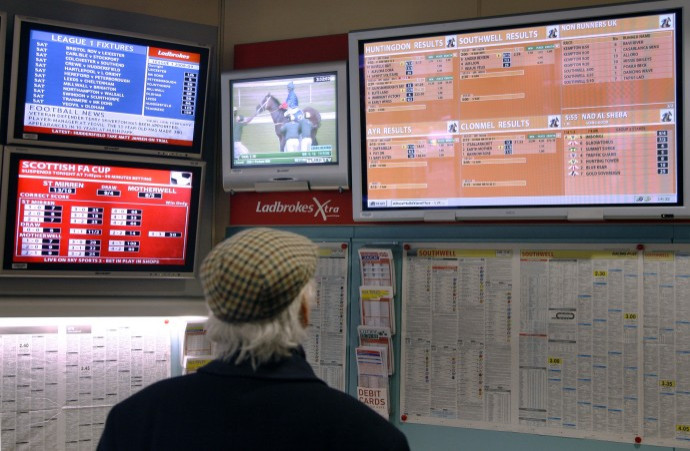 Shares in Ladbrokes were down on the FTSE 250 in afternoon trading after the bookmaker reported a fall in total profit in the full year ended 31 December 2010.
The group reported a slight rise in revenue of 1.3 per cent to £976.6 million, however this figure excluded the impact of "High Rollers" who bet large sums of money with Ladbrokes.
In 2009 Ladbrokes made £66.9 million from the "High Rollers" but in 2010 that figure collapsed to just five million pounds.
Excluding the impact of the "High Rollers" Ladbrokes total profit for 2010 increased 20.1 per cent to £202.3 million, however including the "High Rollers" Ladbrokes total profit declined 11.9 per cent to £207.3 million.
Ladbrokes said that it would be increasing its total divided 155 per cent to 7.60 pence per share and added that it had cut its net debt by £202.2 million to £492.0 million.
Richard Glynn, Chief Executive of Ladbrokes, said, "Our business is going through a process of significant change. We have made good progress to date and our improved performance reflects the decisive management action taken in 2010.
Group operating profit is up 20.1%, with double digit profit growth across all trading segments of the business. Our machine performance continues to improve with gross win per terminal per week up 10.2% in the second half of 2010 versus 2.8% in the first half. This reflects our increased operational focus and provides a strong platform for the rollout of the new Global Draw machines, which we expect to complete during the first half of 2011.
"Within Digital, Sportsbook turnover grew by 17%. The number of Bet In Play events offered in 2010 reached 23,000, an increase of 27%, with amounts staked from Bet In Play events now representing 42% of our total Sportsbook. Our innovative range of new apps for mobile devices has helped drive a fivefold increase in the proportion of Digital customers accessing the Mobile service, currently 15%.
"The fundamentals of the Group business remain strong. We have laid solid foundations in 2010 upon which to build. We have set out our strategic goals and we have a clear set of priorities on which to focus. We expect to invest an additional £50 million of capital expenditure, during 2011 and 2012, in order to enhance our technology platforms."
By 13:40 shares in Ladbrokes were down 3.94 per cent on the FTSE 250 to 136.40 pence per share.