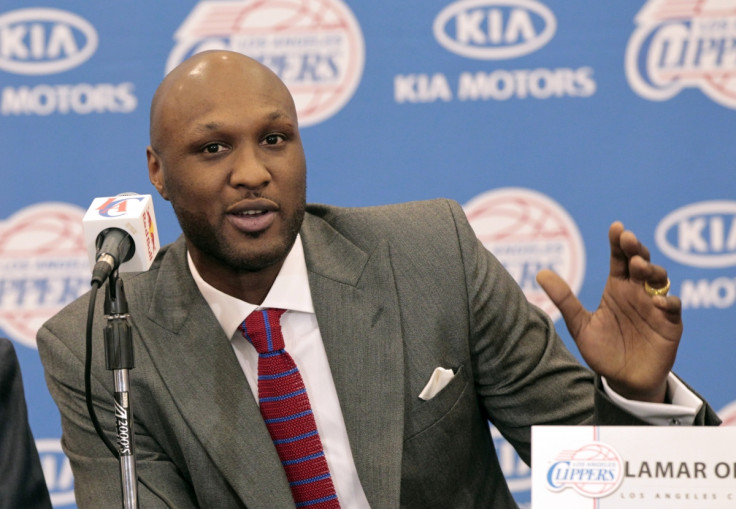 Lamar Odom is apparently showing slight signs of improvement as he continues to fight for his life at the Sunrise hospital in Las Vegas. The 35-year-old former NBA player was found unconscious at the Love Ranch brothel on 13 October in Nevada.
Khloe Kardashian - who is said to be still legally married to Odom - and her mother Kris Jenner and sisters, Kim Kardashian, Kourtney Kardashian and Kendall Jenner, reached Las Vegas to be with him. Odom's former partner Liza Morales and children, Destiny, and Lamar Jr, are also at the hospital.
A source told ET: "There have been a few encouraging moments, including when Odom briefly fluttered open his eyes and at one point Kim Kardashian believed he squeezed her hand."
Meanwhile, Khloe released a statement along with her sisters explaining why they have decided to temporarily pause activity on their apps. The statement on their websites read: "As a family, we've decided to hold off on publishing content across our apps while we continue to support and pray for Lamar. Thank you for your kindness and understanding during this difficult time."
A spokesperson for Khloe revealed they have asked Dennis Hof, the owner of the Nevada brothel not to talk to the media and give interviews. The statement read (via NY Daily News): "We reached out to Dennis politely asking him to respect Lamar's (and Khloe's) privacy during this difficult time and refrain from talking to the press. This is a very painful situation, as I know you are aware, and the idea that anyone would use it to seek publicity is really sad."