Lampedusa Boat Sinking: Eritreans' Deadly Route to Escape Authoritarian Regime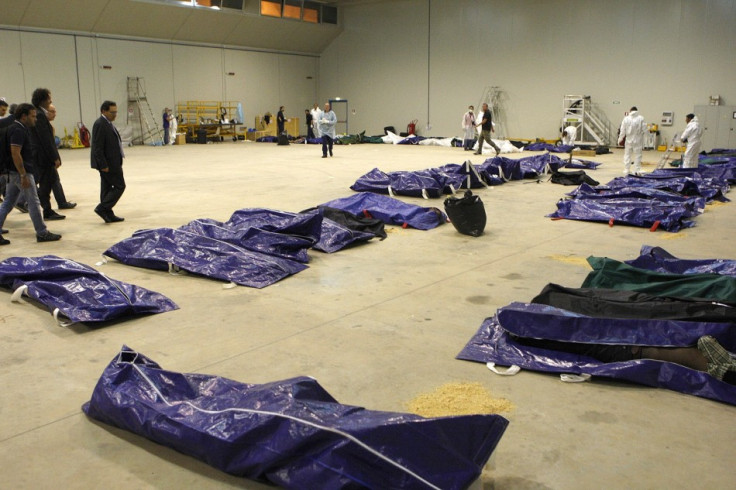 The refugee boat which sank off the Sicilian island of Lampedusa contained hundreds of Eritreans fleeing their country's authoritarian government, according to a prominent activist.
Meron Estefanos, a human rights activist and radio presenter in Sweden for Radio Erena, said that after the latest sinking she has received distressed phone calls from Eritreans living in Germany and Sweden asking for information about their missing relatives.
"Many of them could be on the boat that sank or on another boat that sailed from Benghazi, Libya and which has been missing for two days," she told IBTimes UK.
Around 500 people were aboard the refugee boat when it capsized and sank half a mile from Lampedusa. So far 111 people have been confirmed dead, but it is feared that at least 300 people have perished.
Italy's interior minister Angelino Alfano said: "This is not an Italian tragedy, this is a European tragedy. Lampedusa has to be considered the frontier of Europe, not the frontier of Italy."
The UNHCR reported that 8,400 migrants landed in Italy and Malta in the first six months of 2013. The majority of them following a well-worn path from northern Africa and the Middle East, continue their journey to northern Italy or Germany, France and the UK.
The deadly route
After leaving Eritrea for Sudan and south Egypt, migrants travel to Libya where the majority are usually arrested.
At least 4,000 Eritreans are currently in Libyan prisons in appaling conditions, Estefanos said, or used as cheap labour on building sites or farms.
"They are exploited to work for free in construction and farming," she said. "If they try to ask for a salary, they are told that they are lucky enough just to have food to eat.
"Refugees are discriminated against in prison for religious reasons because Eritreans are Christians. There are stories like the pregnant woman who was refused food because it was Ramadan and women have been raped by guards. The same thing happens in Egypt and Israel. If you do not think of them as humans, nothing will change."
Estafanos said she receives dozens of phone calls every day from migrants in Libyan prisons who bribe the guards for 600 euros a time to use their mobile phones.
"I don't answer phone calls any more because I don't know what to tell them," she said.
Those who do manage to get on a boat often have to pay between 1,000 to 2,500 euros each to sail to Italy. "People think that getting on the big boat is safer so they are willing to pay more," Estefanos said.
Nothing has changed in Libya since the removal of Mohammar Gaddafi in 2011, according to Estefanos. A deal with the Libyan dictator in 2010 put a temporary stop to migrants arriving in Italy. During that period the North African country arrested about 6,000 people who had entered the country illegally. The following year, however, they were all released as a provocative response to Europe's threat of military action against the dictator.
Eritreans found themselves in a dramatic stalemate. "They were harassed by people during the revolution who thought they were Gaddafi mercenaries. They tried an impossible crossing of the sea in March, when the sea conditions were terrible. Around 1,500 people died."
'They went to water and died'
Estefanos believes that European countries should share responsibility for the wave of migrants coming to Italy.
"I blame the EU not Italy or Malta for this tragedy. The EU is hypocrital. They are quick to condemn but have to take responsibility as well," she said.
The constant arrival of migrants also puts a spotlight on Eritrea - dubbed the North Korea of Africa, which is considered one of the continent's most opaque countries.
National elections have not been held since the country gained independence in 1993. It is governed by the one-party authoritarian rule of President Isaias Afewerki, who has been in power for 20 years.
Torture, arbitrary detention and severe restrictions on freedom of expression are routine. "When Eritreans die in sinking boats, the government never proclaims a day of mourning for them," Estefanos said.
The situation in Eritrea is getting worse, according to Estefanos. "There is no electricity in many areas and a dramatic shortage of water," she said.
"The President said to stop complaining about water. 'If water does not go to people, people should go to water,' he said. They went to water and died."
© Copyright IBTimes 2023. All rights reserved.