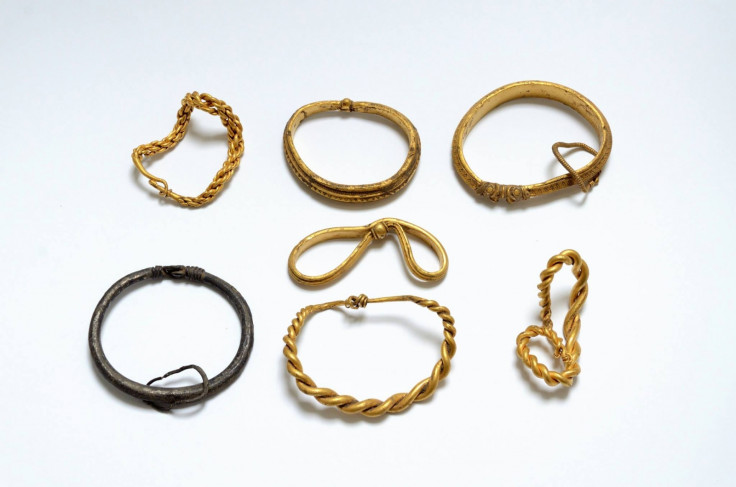 Buried treasure consisting of seven bracelets has been discovered by metal detector group Team Rainbow in Vejen, Jutland. The finds date back to 900AD and may have been used by Viking noblemen as alliance gifts to chieftains or given as oath rings.
The artefacts, the largest gold hoard found so far in Denmark weighing in at about 900g (1.948 pounds), were found by amateur archaeologists Poul Nørgaard Pedersen, Marie Aagaard Larsen and Kristen Dreiøe.
"At Sønderskov Museum, we are extremely excited about six gold bracelets that were recently handed in to the museum. They were discovered by Poul, Kristen and Marie that make up the metal detector group Team Rainbow," according to a statement on the museum's Facebook page.
The precious Viking items were found in a field by Larsen, who was using a metal detector for only 10 minutes when she stumbled upon the buried treasure. "We really felt that we had found the gold at the end of the rainbow when we found the first ring, but as there appeared more up, it was almost unreal," Larsen told the Sønderskov Museum.
The find is very unusual as hoards usually consist of silver objects. One of the bracelets is decorated with finely crafted dragon heads.
"To find just one of these rings is huge, so it is something special to find seven. The Viking Age is actually the 'silver age' when it comes to hoards," Peter Pentz, Denmark National Museum's Viking expert said. "If there is gold, it is always a small part, not like here, the majority."
The treasure was found in Frøs Herred. Froze means Frej, or Freyr, the god of fertility in the Viking age. He was one of the most important deities in the Norse religion and associated with virility, prosperity and royalty.
Lars Grundvad, Sønderskov Museum's curator and archaeologist said: "At the museum we had talked about that it could be interesting to explore the area with a metal detector, because a gold chain of 67g was found in 1911. But that amateur archaeologists in the course of a few days would find seven Viking bangles, I had in my wildest dreams never imagined."
One of the bracelets was decorated in the Jelling style – an art style thought to be closely related to the highest classes in Viking society. A find of 750g (1.65 pounds), from Vester Vestad in south Jutland, was previously the largest Viking gold hoard found.