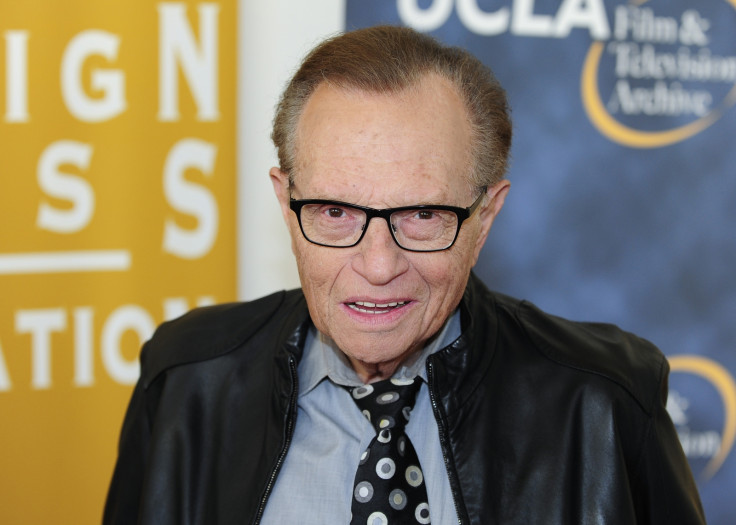 Ukrainian investigators say Larry King was paid $225,000 (£171,000) by the party of the country's former president Viktor Yanukovich for an interview the renowned US broadcaster did with a former prime minister.
Ukrainian MP Serhiy Leshchenko said that the money came from Yanukovich's Party of Regions for a TV interview King did with the then Ukrainian government head, Mykola Azarov.
"Money from the Regions Party's shadow assets was paid, for instance, to Larry King, a well-known American journalist who had been a CNN host for decades. He got $225,000 from the Regions Party's shadow coffer," Leshchenko said at a press conference in Kiev on Friday 19 August.
Editor-in-chief of the Internet online publication Ukrayinska Pravda Sevgil Musaieva-Borovyk confirmed that King had received those funds for the interview, Interfax Ukraine reported.
The interview itself was less than penetrating, with King opening with the question: "What do you like about your job?" This was then followed by the question: "What don't you like about your job?" The prime minister spoke about the task of getting stadiums built for the European football championships that were held the following year.
King also asked: "What got you into politics?" to which Azarov replied: "That's a tough question."
The links between King and Yanukovich's party come as authorities in Ukraine release entries they say show cash payments from the pro-Russian Party of the Regions to Republican presidential candidate Donald Trump's campaign chairman Paul Manafort.
Secret ledgers show $12.7m (£9.6m) in undisclosed cash payments designated for Manafort from Yanukovych's Regions Party between 20 November 2007 and 5 October 2012. On August 18, the National Anti-Corruption Bureau posted scans of 19 pages from the Regions Party's secret ledgers, mentioning Manafort.
"We emphasise that mentioning Manafort's name on the list does not mean that he actually got the money because the signatures that appear in the column of the recipients could belong to other people," the NABU wrote on Facebook.
Emails obtained by Associated Press reportedly link Manafort to a US lobbying operation on behalf of the Ukrainian party to try to sway American public opinion in favour of its government.