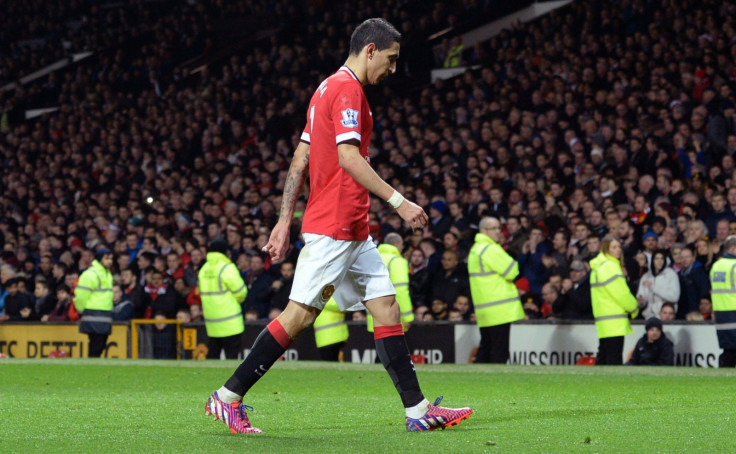 Paris Saint-Germain manager Laurent Blanc admits the club are still interested in signing Manchester United midfielder Angel di Maria.
French newspaper Le Parisen reported on Thursday that Di Maria, 26, already has 'one foot' in the French capital with PSG close to agreeing a €60m (£43m) fee.
The Ligue 1 champions were favourites to sign the Argentina international from Real Madrid last summer but Financial Fair Play restrictions prevented the club from challenging United for his signature.
A year on, however, FFP rules have been eased and Blanc is keen to strengthen his squad again, with Di Maria is on the club's shortlist.
And while the PSG boss is aware United are not in a position where they have to sell, he insists his side are not the only interested party out there.
When asked by L'Equipe whether United's record signing is someone he is keeping his eye on, Blanc responded: "Yes. We have our priorities.
"But to strengthen such a team you must target those who are at big clubs and who are not easy to prise away. That is hardest for PSG.
"Di Maria, he is good. We have more freedom, but it remains a difficult project for us because we are not alone in wanting him. When you see the financial power of the English clubs, they are attacking everyone. Competition is very, very tough.
"Don't forget, United paid a fortune to get him. For us to work effectively we have to think of other solutions. We must be proactive."
Di Maria's disappointing first season in English football has led to suggestions that he will consider a move away from United although he insisted in an interview with Ole in June that he is determined to prove his worth at Old Trafford.
"No [I haven't considered leaving], because I'm not thinking like that. In Madrid there were times when I was whistled around the stadium but faced it and then it turned around. I like to deal with things."
Van Gaal has also encouraged the player to remain at the club but suggested the final decision may lie with the player, telling the club official website: The manager and the club is always dependable on the opinion of the player himself. The player decides, so we shall see what he decides."