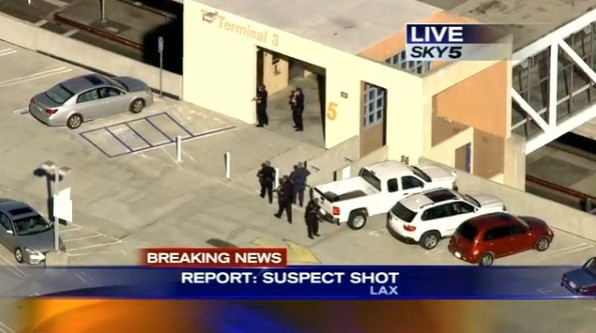 A security official is feared dead and several other people have been wounded in a shooting at Los Angeles International Airport (LAX). The gunman was among those said to have been injured and had been arrested, initial reports claimed.
The shooter, who was reportedly armed with an AR-15 semi-automatic rifle, opened fire at a security checkpoint at LAX terminal 3 at about 9:30am local time (1730 GMT).
"Multiple victims were injured. LAX PD engaged the suspect," Los Angeles Police Department (LAPD) said. "The suspect was taken into custody."
TV footage aired by ABC 7 showed police officers escorting an handcuffed young Caucasian man away from the airport area.It was not clear if he was the shooter.
The dead victim was reportedly a security officer who was on duty at the checkpoint.
The UCLA Medical Centre said that three wounded people were brought in, one in critical condition. The other two were said to be in fair condition but no further details were provided.
Jim Featherstone of the L.A. City emergency management department said a total of seven people were injured, six of which were taken to local hospitals for treatment.
TV footage showed police and security officers swarming the airport while people rushed away from the scene. A law enforcement officer was seen receiving treatment by paramedics.
The terminal was evacuated and all operations other than arriving flights were suspended.
Authorities stepped up security at airports across California.
President Barack Obama has been briefed on the shooting, the White House said.