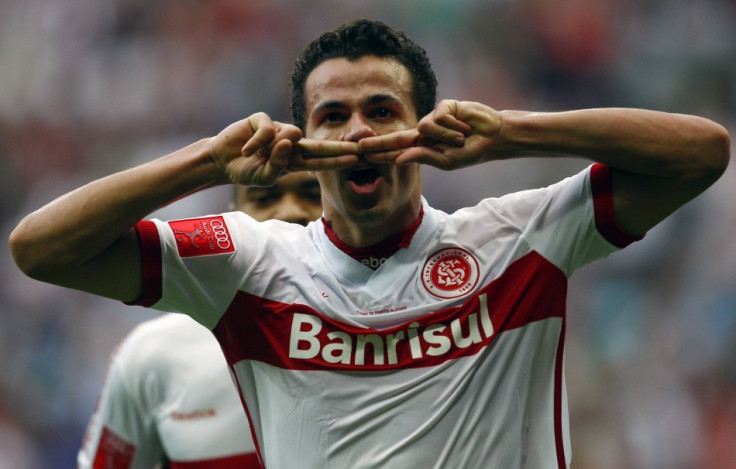 Brazil forward Leandro Damiao has revealed that Tottenham have made enquiries over his availability in the summer.
Damiao, 22, currently plays in Brazil for club side Internacional, and has been linked with a move to the Premier League since last summer.
The striker has attracted attention from clubs across Europe - including Tottenham and Arsenal - this season, after scoring 17 goals in 16 appearances for the Brasileirão side.
Paris Saint Germain have also been linked with the highly-rated forward, but Damiao claimed only Tottenham have registered their formal interest in his signature.
"I am not aware of anything for an offer from Paris SG. I have had no contact with PSG or [sporting] director Leonardo," Damiao is quoted on ESPN. "For now, I think about my club and the Copa Libertadores. In July, if a proposal comes, it will be discussed.
"All I know is that Tottenham have made an offer."
Earlier in January, the International Business Times UK reported that Damiao was unlikely to leave Internacional unless the club received an offer that triggered his €50m buy-out clause.
"I don't believe that SC Internacional president Giovani] Luigi will let him go for under €25m," a source close to Damiao told IBTimes UK.
"There is nearly no chance that Inter will let him go before the summer, because they need him urgently for the upcoming Copa Libertadores. Only if someone pays the €50m [buy-out clause]."
In November, a spokesman for the player confirmed Damiao was being monitored by Arsenal and their north London counterparts Tottenham, suggesting both clubs had made offers for the youngster.
But these claims have been refuted by our source, who revealed that while a number of clubs have expressed an interest in the player, he has heard nothing official from either Arsenal or Tottenham.
"In the last 12 months, 20 clubs from all over Europe showed interest and asked for Leandro Damiao. 90 percent of them had [the] complete wrong idea of the price that Inter wants for him," the source, who spoke on the condition of anonymity, added.
"Internacional has a good relationship with Tottenham because of Sandro; of course there was an exchange of a superficial conservation, but nothing else what I know. I know nothing officially from Arsenal."
And the source also rejected reports from French radio station RMC that Paris Saint-Germain sporting director Leonardo had already reached a verbal contractual agreement with Internacional over a move for Damiao in January.
"I know only of passing interests, but still nothing like a serious official offer. Paris Saint-Germain could be a hot topic for the summer, because they have the financial resources," he said.
Nevertheless, Damiao's agent Vinicius Prates has confirmed he held unofficial talks with Juventus and Barcelona in the last six months and our source confirmed that, while Damiao remains loyal to Internacional, he would undoubtedly consider a move to Europe should the opportunity arise.
"Leandro Damiao likes a lot his country also he likes his club SC Internacional, where he feels very well," he added.
"If there appears a very good chance for Europe, of course he will think about it. But it's definitely not like [the media reports], that he wants to move away as fast as possible like other players."