A river of rubbish snakes through Beirut's northern suburbs, and vast mountains of trash surround the Lebanese capital. Mounds of rotten waste crawling with maggots fester near the mouth of the city's river, leading to a fly infestation. The air is filled with foul smoke containing carcinogens caused by the burning of waste. Rubbish has been dumped in rivers, leading to major concerns about diseases such as typhoid, cholera, jaundice, dysentery and diarrhoea, which are infectious and spread through contaminated water. The city's harbour is dominated by a growing pyramid of garbage bags.
The government came up with a radical plan to get rid of the rubbish: shipping it to Russia. However, this plan has fallen through, sending Beirut's six-month waste crisis back to square one.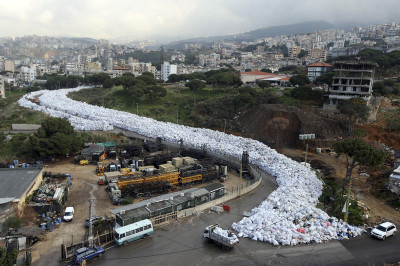 The British firm chosen to export the rubbish to Russia for disposal, Chinook Urban Mining, failed to obtain documents proving Russia had agreed to accept the waste by the deadline, annulling the deal, according to government agency the Council for Reconstruction and Development (CDR). It said this meant the Lebanese government could now claim $2.5m (£1.8m) from Chinook which the waste management firm put up as a guarantee that it would get the required permissions. The CDR said the company apologised for not being able to provide the documents. Chinook declined to comment.
The plan would have cost $193 per ton to get rid of the waste, Agriculture Minister Akram Chehayeb told Reuters. That is more than a third more than the $140 a ton Beirut's waste management company Sukleen says it charged to clear away waste before the landfill closed last year. Six months is a long time in waste management: the area produced around 3,000 tons of refuse a day before the crisis, according to the company that collects it, meaning around half a million tons of untreated rubbish has had nowhere to go.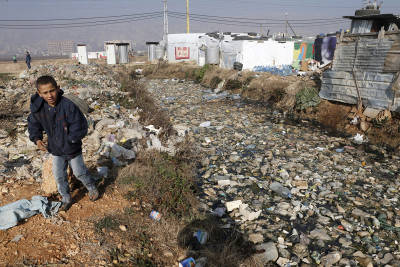 Frustrated activists and citizens point the finger at Lebanon's paralysed political system, made worse because of sectarian tension that has increased with Syria's civil war next door. The government has not passed a budget since 2005 and has been without a president for more than a year and a half.
The Lebanese system of government stitched back together after the war carefully balances the interests of Sunni, Shia, Christian and Druze groups. But the need for consensus in decision-making makes it easy for regional and community leaders to veto planning decisions. The country's infrastructure is under extra pressure from more than a million Syrian refugees who have joined the 4.5 million Lebanese.
A long-term recycling and waste management plan proposed by a committee of experts late last year failed to make it off the ground because communities rejected proposed new landfill sites. In Akkar, 120km (75 miles) north of Beirut, residents rejected plans to upgrade an existing rubbish dump into a managed landfill to take some of Beirut's waste, despite being offered around $100 million in development grants, local campaigner Antoine Daher told Reuters.
As rubbish rotted in last year's suffocating summer heat, protests broke out and anti-government movements such as You Stink and We Want Accountability crystallised. Protests were frequent but have now largely fizzled out after a security crackdown.