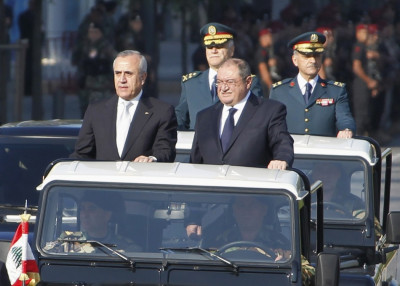 Lebanon celebrated its 68th independence anniversary on Tuesday with a 50-minute Independence Day military parade in Beirut, but opposition leaders insisted the country's sovereignty is still incomplete.
The celebrations were attended by Lebanon's President Michel Sleiman, Prime Minister Najib Mikati, Parliament Speaker Nabih Berri, Defense Minister Fayez Ghosn and Lebanese Army commander Gen. Jean Kahwagi .
The Brazilian Vice President, Michel Temer, who was visiting the country, was also present.
After a 21-gun salute, the President laid a wreath on the tomb of the Unknown Soldier and a 50-minute military parade which included infantry and navy commando took place.
Ahead of the celebrations Sleiman told the nation in a televised speech: "Yes for independence. Yes for coexistence. Yes for freedom and social justice."
For members of the opposition however, the independence still need to be more consolidated.
"Our independence is incomplete because some people try to violate Lebanon's sovereignty" MP Ahmad Fatfat, a member of the Movement of the future, a political bloc formed by Saad Hariri, former Prime Minister of Lebanon and son of the late Rafiq Hariri said Tuesday in an interview with the Voice of Lebanon radio station.
"We tell them that we must join ranks in order to achieve real independence by restoring Lebanon's sovereignty."
Fatfat referred to the alleged recent cross-border incursions by the Syrian army into Lebanese territory. In October, reports alleged that the Syrian army had entered the country twice in the space of two weeks.
At the time, the March 14 coalition, a group of political parties and independents in Lebanon that call for sovereignty over all Lebanese territories, led by Saad Hariri and of which Fatfat is also a member widely condemned the move.
Meanwhile, Lebanese Forces leader Samir Geagea called on Lebanese to unite.
"Lebanon's independence is entrusted in your own hands," Geagea said in a statement issued Tuesday.
"Your [Lebanese] unity is the guarantee for the survival of Lebanon and so is your cooperation and harmony."