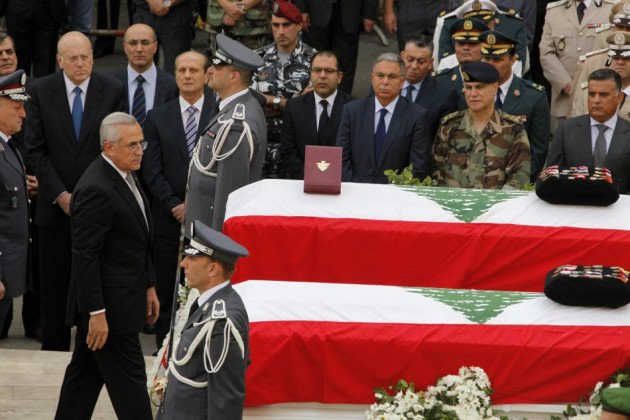 The United States has said that it will aid the probe into the blast that killed Lebanon's internal intelligence head, Wissam al-Hassan, as violence continued in the country's streets over the weekend.
A US spokeswoman said in a statement that Secretary of State Hilary Clinton has confirmed her country's "firm commitment to Lebanon's stability, independence, sovereignty and security" to Lebanese Prime Minister Najib Mikati.
"[Clinton] noted the importance of political leaders working together at this sensitive time to ensure that calm prevails and that those responsible for the attack are brought to justice," the spokeswoman added.
Hassan, who was investigating the murder of Lebanon's former prime minister Rafik Hariri was killed when a car bomb exploded in one of Beirut's upmarket districts.
The authorities initially claimed that eight people were killed in the blast, but later reduced to three - Hassan, a bodyguard and a civilian woman.
Demonstrators, demanding the resignation of Mikati, clashed with government forces on the streets of Lebanon after Hassan's funeral.
An angry mob, mostly young men, charged to the prime minister's headquarters in Beirut, but was forced to retreat after a reinforced police force fought them with tear gas canisters and bullets fired into the air.
Violence was reported overnight in the western and southern parts of the capital city as well.
Mikati had expressed his willingness to quit, but is reported to have stayed on following a request from President Michel Suleiman.
Opposition leaders have blamed neighbouring Syria for the attack, amid fears that the violence across the border could spill over into the country. Most within in the Lebanese government are in support of the Syrian regime.
Hassan's investigation had concerned Damascus and he had recently arrested a former minister on charges of planning a Syrian-sponsored bombing in Lebanon.
The country's religious communities are divided on the issue of support for the Syrian regime. Most from the Shia community back the Syrian government while the majority of Sunnis support the rebels.