The Dark Knight returns - and rises - as do all his pals, in Lego Batman 2: DC Superheroes.

Key Features:
Lego characters speak for the first time
Engaging world and beautiful graphics
Touches of humour
Atmospheric classic film scores
Price: £39.99 on PS3, Xbox, PS Vita, 3DS; £29.99 Wii, DS; £19.99 PC
Lego Batman 2: DC Superheroes - Overview
The FIFA Road To World Cup 98 videogame used to play Song 2 by Blur when it loaded up. That always got us in the right mind set for a kickabout.
It seems all it takes to get us in the mood for some crime fighting is that theme from Tim Burton's Batman.
Danny Elfman's rousing orchestral masterpiece is not the only audio delight you will find in Lego Batman 2: DC Superheroes. For the first time ever in a Lego computer game, the characters talk.
You might expect the superheroes and villains to chatter away in high-pitched versions of their usual voices, given their diminutive size.
Thankfully, the voice acting has been taken as seriously as the need to build a huge, absorbing world.
Download a demo version for Windows 7, Vista and XP PCs from the Lego website.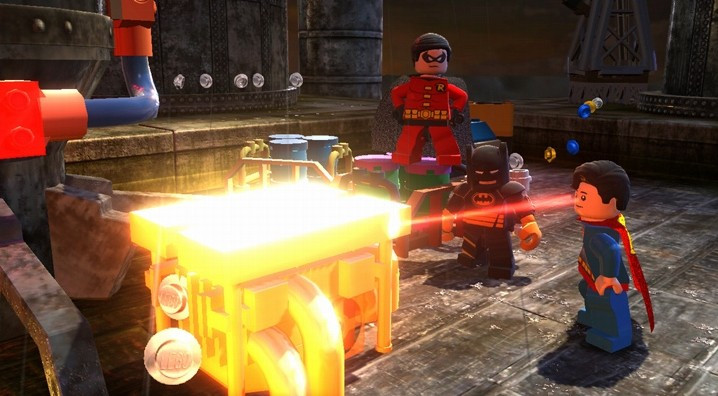 Lego Batman 2: DC Superheroes - Execution
It has been almost four years since the first Lego Batman game, which cannily took a leaf out of the Ronseal Guide To Product Titles by calling itself Lego Batman: The Videogame.
That first game followed hot on the heels of the epic Batman: Arkham Asylum and although the Lego competitor was a success, it felt small compared its rival's environment.
Since then, the full-sized Batman has also had the chance to, ahem, spread his wings and wander around Arkham City, a massive environment every bit as deadly as the asylum.
Won't this second Lego game for the caped crusader seem, well, a little small after those 'proper' Batman games?
Amazingly, that is not the case. The voiceovers help give this the feel of a more serious game, with plenty of extended cut scenes to further the story.
Don't worry, there's still plenty of that clever Lego humour: "I can see you smirking in there," shouts Superman as Batman hides in the Batmobile. "X-ray vision!"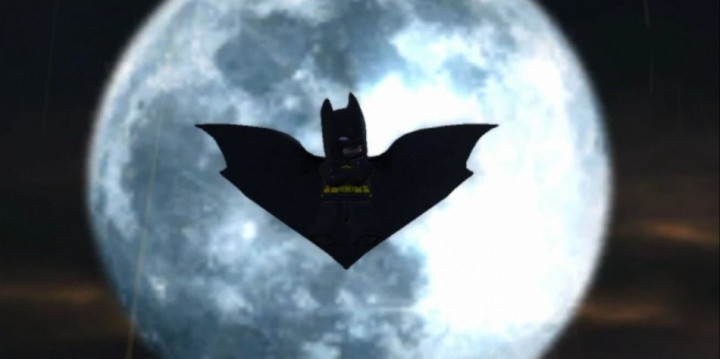 Lego Batman 2: DC Superheroes - Gameplay
It's the scale of the game that really feels like a step-up over previous Lego games.
Those titles had always felt big in the way that there is lots to achieve, with levels requiring multiple play to unlock all of their elements, but this one adds a more pleasing storyline and environment.
Racking up enough coins on every level or returning once you have gained a new power to access locked areas was starting to feel a little stale.
Now it feels like much more fun again and takes us back to the early days of Lego games.
Lego Batman 2: DC Superheroes - Graphics
The worlds of Lego games have always been beautifully realised, whether they mimicked Star Wars, Pirates Of The Caribbean or Indiana Jones.
This Batman game had a particularly tough job on its hands given that Gotham is so fresh in the minds of fans thanks to the Arkham series.
It is great to be able to report that the designers have done a fantastic job mingling the cartoony Lego style with that dark and disturbing palette to hit the tone spot on.
It is always nice in a game to be able to stand at a high vantage point - in the classic Batman pose, naturally - and look out at the view.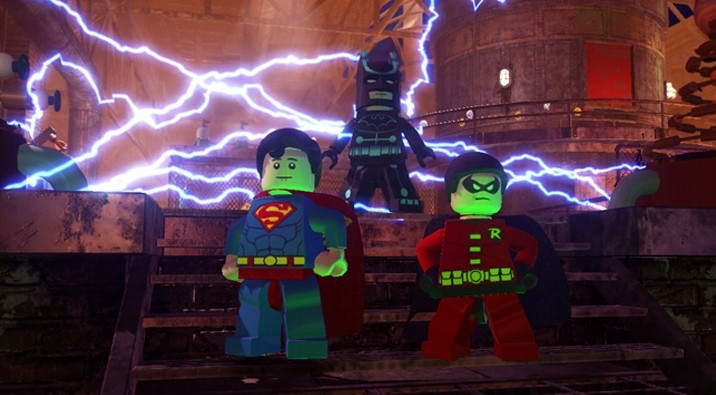 Lego Batman 2: DC Superheroes - Verdict
A brilliant return to the screen for our blocky little superhero - and all his friends.
The quality of the graphics in a version of Gotham that can be torn down brick by brick is amazing, while the excellent voice cast lend so much substance to the previously mute Lego universe.
Get the audio right in a game - as we suggested with Song 2 - and everything else falls into place.
The fact that John Williams' classic theme plays any time Superman takes to the air should be enough to convince you to give this a spin.
Score:
• Overall: 9/10
Must Read:
Film Review: The Dark Knight Rises
The Dark Knight Rises Toys Review [VIDEO]