From Jamie Vardy's right foot to Richard III's bones – how Leicester hit the big time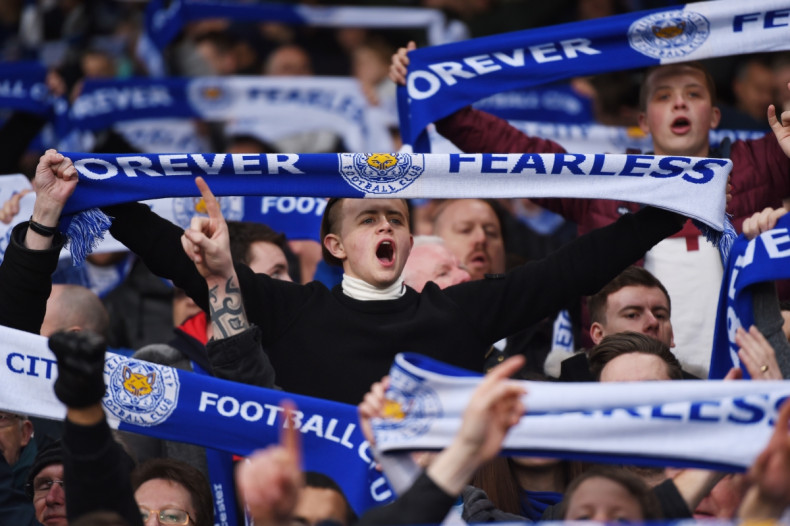 'There's less to Leicester than you think!' proclaimed a piece of graffito on a wall at the University of Leicester many years ago. At the time, the phrase perfectly summed up the sinking feeling of a provincial East Midlands city whose best days were behind it.
In 2016, that self-deprecation is long forgotten. Today, Leicester is on top of the world – or at least in the English Premier League. The city made headlines across the world in 2012 when the remains of long-dead English king Richard III turned up in a car park, somewhat bizarrely, and now it is back in the spotlight with the remarkable David versus Goliath-style success of Leicester City Football Club.
On the streets of the city, which is home to more than 330,000 people, you would be hard pressed to avoid football. At Leicester's covered market, stallholders swap stories of the previous night's England game.
And rather than ruing yet another woeful performance from the national team (England lost, naturally), they are celebrating a goal scored by Jamie Vardy, the striker who has put 21 in the onion bag for Leicester City so far this season.
With seven games to go, the club are a whisker away from winning the Premier League and have seen off the swaggering, super-rich elite of Manchester City, Chelsea and Manchester United. Purchased by Thai billionaire Vichai Srivaddhanaprabha in 2013, Leicester are certainly not short of money, but their winning streak and underdog status (they were only promoted to the Premier League in 2014) has not only captured the heart of the city, but the entire country.
Leicester doesn't want to be London – it wants to be its own city.
The discovery of the remains of a 15th-century king may seem dry by comparison, but the identification and reinterment of England's last Plantagenet in 2015 captivated the world. Richard III, a controversial monarch widely believed to have had his two nephews — the Princes in the Tower — executed in 1483, had lain in an unmarked grave near Leicester Cathedral since his death at the Battle of Bosworth more than 500 years earlier.
"I don't think anybody would have put any money on finding those bones in the car park. But then again, at 5000/1 nobody was putting any money on Leicester City being at the top of the Premier League," said Sir Peter Soulsby, the mayor of Leicester, in his office at City Hall. "It is amazing though, that two highly unlikely events have raised the profile of the city in a way that nobody could have contemplated three years ago," he told IBTimes UK.
Soulsby, who has been mayor for almost five years, admits his term got an unexpected boost by two events quite beyond his control, but he was quick to capitalise on the Richard III discovery. He arranged for the council to buy the land where the bones were found before anybody was sure they were Richard's, a move that paid off when the DNA tests came back in 2013. The centre has welcomed 90,000 visitors in the last 12 months alone.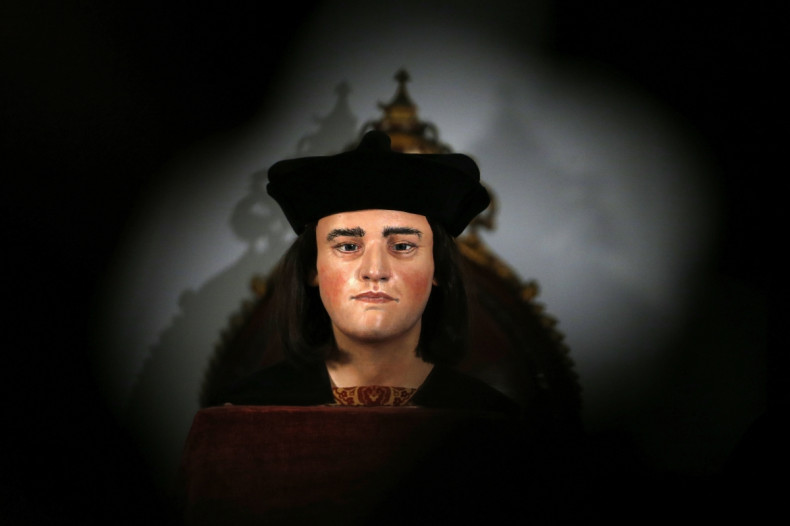 But for Soulsby the rediscovery of Richard's bones was more than a useful tool to attract tourists, not to mention the world's media, to Leicester. It has been a confidence boost to the city as a whole, as has the success of LCFC. "There is an increasing self-confidence about this city. Richard III and the football have enormously accelerated that," he said.
Like many cities, Leicester was hit hard by the decline of the British manufacturing industry that began in the 1970s and continued as late as 2000 with the high-profile collapse of British United Shoe Machinery. That came alongside a huge influx of new arrivals to Leicester, starting with the Ugandan Asians fleeing Idi Amin in the 1970s and followed by immigrants from Europe, the Indian subcontinent, the Middle East and China.
However, multiculturalism has become a point of pride for Leicester in 2016. Local newspaper the Leicester Mercury reported in February of this year that the city's Narborough Road is officially the most diverse street in the UK, with the owners of its 222 shops originating in 22 different countries.
Soulsby claims that Leicester is the most culturally diverse city in the UK, if not in Europe. "I won't pretend that somehow Leicester is an island of sanity in a mad world. It isn't. [But] we do things significantly more positively in Leicester than in other places," he said.
Sat in a café in the centre of Leicester that he firmly believes is the city's best, Merrick, a young Leicester local in his twenties, considered Soulsby's words carefully before replying: "Yeah, I'd agree with that." Merrick runs a listings website Leicester, it's not s**t!, which has grown from a small blog run by himself and a friend to a popular forum for news about the city's food, drink and entertainment scenes.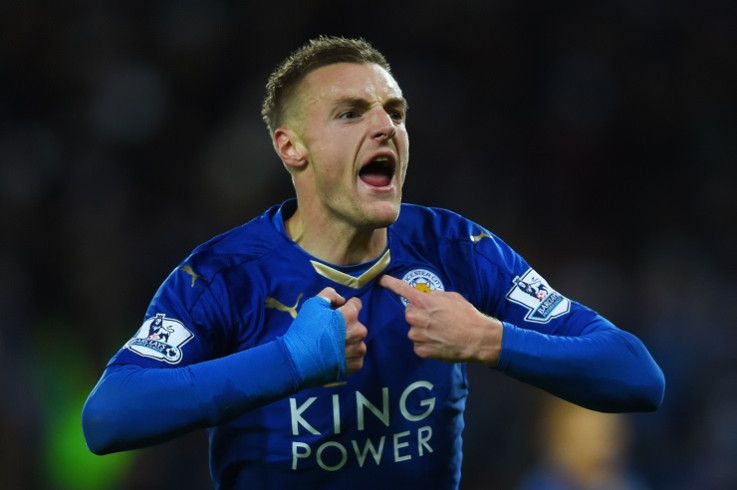 Jamie Vardy in action for Leicester City
Getty
Merrick refused to disclose either his name or age for fear that he would lose the anonymity that allows the site to be honest, sometimes brutally so, about Leicester's bars and restaurants.
He said he started the site as a retort to people who said there was nothing going on in his home city: "We know the deal – people leave these cities to find the big lights. But Leicester is not s**t, there is a bunch going on," he said.
A football fan, Merrick was a season ticket holder until the end of last season — when he gave it up, much to his regret — but gets to games whenever he can. Though he may be one of Leicester's proudest sons, he admits the city has its problems: "There's no graduate community here. When people graduate, they leave."
Belfast-born but a 30-year veteran of Leicester, Mike Dalzell heads up regeneration for Leicester Council. While upbeat about the city's future, he agrees it is a lack of skilled workers holding it back. Leicester may have a successful and large university but a lack of opportunities for graduates mean they often go elsewhere. As a result, companies struggle to find the expertise that they need.
"I think historically Leicester has not had a reputation [...] as a cool place to be: a place where you can have a career and a nice standard of living," he said. "It has lacked an identity, nationally. People didn't know where it was, or what it was. People thought it was a town in the north. We churn out a lot of graduates a lot come from elsewhere and go elsewhere. That is a challenge."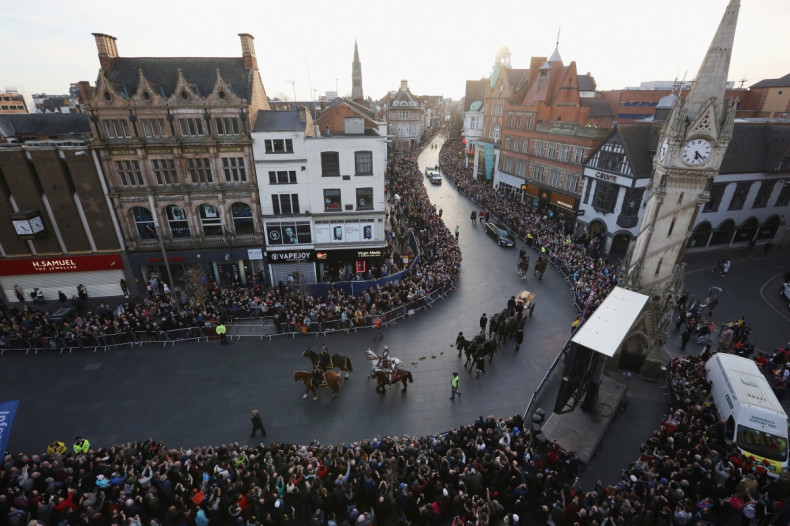 Dalzell and others at the council are hoping a number of high-profile development projects and wooing of companies such as IBM, which opened its first client innovation centre head office in the city last year, can go some way to persuading both companies and graduates that Leicester is a good place to have a career. There is even scope to woo London commuters, with the city just an hour from St Pancras International by train.
They also hope Richard III and the success of LCFC will market the city to tourists, although Leicester has a serious lack of four and five star hotels. Dalzell would like to see tourists from overseas adding Leicester to their travel itinerary as they would Stratford upon Avon or Manchester. "We want Leicester to be a natural city break destination, which in the past it hasn't been," he said.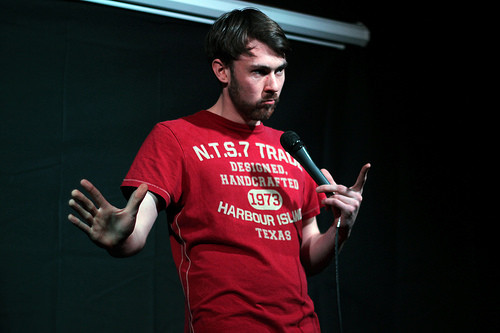 Leicester-based comedian Alex Hylton in action
Alex Hylton
Stand-up comedian and sports writer Alex Hylton, 20, first adopted Leicester as his home three years ago and like most of the city's locals, he has enjoyed the wild ride that Leicester City Foodball Club has given him. Despite being a Manchester City fan, he used to work at the club and remembers when Vichai and his billions first arrived:
"He talked about Leicester winning the league from the beginning and people laughed at him," he said.
But rather than Vichai, it is Vardy, the 29-year-old striker, who Leicester would hope serves as a metaphor for the city's ultimate trajectory until May 7 and beyond. Born on a Sheffield housing estate, Vardy played for non-league clubs until he was 25 and at one point had to play with an electronic tag after an assault conviction.
Now he is glimpsed at the traffic lights behind the wheel of his Bentley (his number plate is VARDY 9) and is not just famous for his performances at Leicester but for England too. A generation of young English footballers look to him as an example of what can be achieved, just like a city that has been hard on its luck looks to Vardy as a harbinger of good things to come.
"You should see how they cheer for Vardy. He is loved so much because he could be any of them," said Hylton.
As for Leicester, the city that gave us Kasabian, Richard III's bones, Walkers crisps and now a Premiership LCFC, it is, Hylton explained, one not afraid to be itself. The arts scene in which he works as a comedian is a classic example, he said. A student at De Montfort University started Dave's Leicester Comedy Festival 20 years ago to showcase acts he found enjoyable. Two decades on, and the event is the biggest comedy festival in Europe.
"I'm not saying that profit and business isn't a motivator in Leicester, it is. It's just that Leicester seems a lot more willing to risk that in order to put on something good. It has a culture of not doing something because you make a lot of money, but doing something because it's cool," he said.
"Leicester doesn't want to be London – it wants to be its own city."