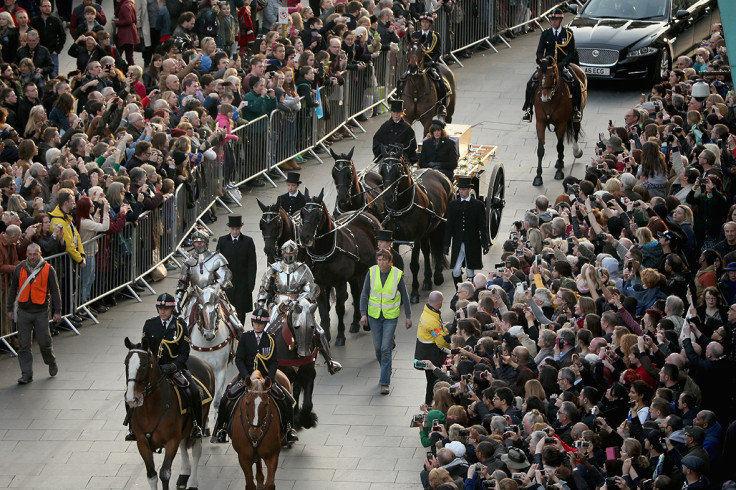 In 1974, travelling from Oakham, Rutland, I missed my onward connection at Leicester and killed a couple of hours walking round the town whilst waiting for the next. I have never been in the city since but now my wife and I shall definitely help boost Leicester's income from tourism.
Not formerly a destination of choice, since the discovery of the remains of King Richard III, a Channel 4 documentary and a dedicated £4 million Museum, oops, sorry, Visitor Centre, Leicester has benefited from a sizeable rise in visitors from home and abroad and the controversial King, who died nearly 530 years ago, is estimated to be worth £45 million to the local economy.
With apologies to William Shakespeare for the misquote from his Richard III (1592), but if the King's shade did witness any of his Reinterment Week's ceremonies and events between 22 and 29 March taking place in and around the East Midlands city, he could be forgiven for wondering why such were being held in a favourite Lancastrian stronghold when His Grace, was of the House of York.
The reason goes back to August 2012 when the University of Leicester teamed up with the City Council and the Richard III Society, to start the search for the King's lost grave at the site of The Greyfriars, a house of religion that had been destroyed during and after the Tudor King Henry VIII's Dissolution of the Monasteries which took place between 1536 and 1541.
Though Richard III's tomb was built and paid for by Henry Tudor who had defeated him on Bosworth Field after he had succeeded to the Crown as Henry VII (according to Leicester historian David Baldwin) and survived the destruction of The Greyfriars, it did eventually fall into disrepair and was subsequently lost.
King Richard had been born at Fotheringhay Castle, Northamptonshire in October 1452 and was slain at Bosworth, near Leicester on 22 August 1485. That the search for Richard's grave was conducted at all, was due in large part to the determined efforts since 2009 of "Ricardian" (someone who believes that Richard's reputation has been totally misrepresented by later Tudor propaganda) Philippa Langley from Edinburgh.
Mrs Langley's own efforts, which raised over £34,000, along with many other members of the Richard III Society in time and money are to be commended, irrespective of one's views on Richard, as finding sponsors to fund the project had its fair share of ups and downs.
Richard generally has a very good reputation until 1483, both as a soldier and for his unwavering support of his brother, Edward IV (possibly his half-brother, but that is another tale in a very divided and complex family).
Matters took a turn for the worse after Edward died in 1483 and 12-year-old Edward V and his nine-year-old brother, Richard Duke of York were declared illegitimate. Taken to the Tower of London (which was also at the time a royal palace) the boys were not seen again after the summer of 1483. Ever since, Uncle Richard has been strongly suspected of having had the Princes in the Tower killed.
There is just enough room for doubt to bar certainty. Shakespeare in my title quote acknowledges Richard's devotion to his brother, Edward IV, making a pun of "son" as the "Sun in splendour" was the war badge of his brother, and there were others amongst these descendants of Edward III, not least Henry VII who considered himself a Lancastrian, who would have acted very coldly - assuming the boys were murdered. (George, Duke of Clarence was twice traitor to his brother Edward IV and was privately executed in the Tower in 1478).
The inexpensive part of the search for the grave started by using a map of Leicester dating from 1741 but much of Mrs Langley's and the University of Leicester Archaeological Services (ULAS)'s efforts to find sponsors proved most time-consuming what with the use of ground-penetrating-radar (GAR), the disruption at and near the site and the restitution of excavation carried out and the like, all having to be taken into account.
On 12 September 2012, it was announced that human remains had been found that were proved to be King Richard III's. On 4 February 2013 the Richard III Society unveiled a facial reconstruction of the King, a project that had been led by Professor Caroline Wilkinson, Professor of Craniofacial Identification at the University of Dundee.
The geneticist who had conducted the DNA analysis and had proved that the remains were indeed those of Richard was Dr Turi King of the University of Leicester and following genome sequencing, Professor King in March 2015 stated:
"...the genetic analysis showed that there would be a 96 per cent probability that Richard had blue eyes and a 77 per cent probability of Richard having blond hair."
A re-modelled reconstruction of a bust of the King was made and is now on display at the King Richard III Visitor Centre taking account of the latest research.
Much as I love history, for me, the continuing scientific research being done and discoveries made by Professors King and Wilkinson that the search for King Richard's remains has generated is even more intriguing; it won't prove conclusively Richard's guilt or innocence but has the potential to shed light in the sciences in the here and now: a tragic King but a happy spin-off.
King Richard was coffined on 15 March at the University of Leicester in a former chapel, with an assurance that all scientific studies on his remains had been completed and would not be disturbed again.
The principle highlights of Richard's Reinterment Week, delayed due to legal actions taken by those challenging Leicester as the site instead of York, started on Sunday 22 March when his coffin, with elaborate ceremony and surrounded by dozens in medieval dress, viewed by several thousand lining the city's streets, eventually proceeded to Leicester Cathedral. There it "lay in state".
Visitor numbers during the next three days exceeded 20,000. Michael Thornton in the Daily Mail on 24 March, wrote indignantly:
"It's mad to make a child killer a national hero: Richard III was one of the most evil, detestable tyrants ever to walk this earth"
Not a Ricardian then.
Many would agree with him though that the £2.5 million cost of all the pageantry had come with a great deal of "hoopla", as he expressed it in his article.
Only a week before, Maev Kennedy in her article in The Guardian remarked that the villagers of Dadlington, close to Bosworth field, after putting him on trial for the murder of the Princes had found the King not guilty, assuring him: "...you may leave without a stain on your character..."
The villagers, of course, should have addressed him as "Your Grace", but we won't send them to the Tower.
On 26 March Richard was reinterred with much pomp in Leicester Cathedral, blessed by Justin Welby, Archbishop of Canterbury, 21-gun salute, several dignitaries including members of the Royal Family and not a few critics tut-tutting an "undignified, money-grabbing pantomime".
Oh come on, it is Britain, it was a lot of fun and free coverage for Leicester! The proceedings pretty much went worldwide whether in TV clips or newspaper articles. Leicester was very worried in 2012 that after the initial interest subsided, it would once again slip into a relative tourist backwater again. Visit York and one is spoilt for choice but now Leicester has adopted this particular "son of York" and is on to a winner!