Tributes have been pouring in for Motorhead frontman and rock 'n' roll legend Lemmy, following his death aged 70. Yet despite his undoubted abilities as a singer and lyricist, his charisma and authenticity, there was one aspect to Ian Kilmister even his most fervent fans might have found uncomfortable: his interest in Nazi regalia.
Inside the rock God's two-bed apartment off LA's Sunset Strip, Lemmy amassed a collection of Nazi regalia collected over many years. Some of these items were gifts, including an SS dagger and banners from fellow metalhead Ozzy Osbourne, whereas others - including his most prized possession, a Damascus Luftwaffe sword worth around $10,000 (£5,200), appear to have been purchases. So was Lemmy's collection his way of sticking up a finger to political correctness? An adolescent desire to shock, or a genuine admiration for the Nazis and all they stood for?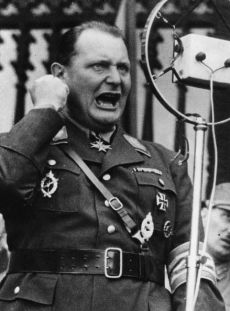 Seeing as Lemmy's own musical hero was Little Richard, for being a black, gay rock 'n' roller in the 1950s, it seems deeply unlikely he harboured Nazi fantasies. Besides, if Nazis ever did rule the world, it seems unlikely they'd have much time for a drug-addled, hirsute rock star.
For Lemmy, his fascination appears to have revolved around Nazi iconography and sense of style. In an interview with The Independent he said: "I've always liked a good uniform, and throughout history, it's always been the bad guy who dressed the best: Napoleon, the Confederates, the Nazis. If we had a good uniform, I'd collect ours as well, but what does the British Army have? Khaki. Makes them look like like a f***ing swamp frog..."
Lemmy isn't the first rocker to 'fess up to liking Nazi imagery. David Bowie and Bryan Ferry made similarly ill-advised comments in the past and Joy Division/New Order got their names from fascist themes. However, most people tend to grow out of their Third Reich stage. Lemmy never did. In another interview, in 2005, he apparently professed an admiration for Hermann Goering - for setting up the Gestapo and then hanging himself before his trial at Nuremberg.
Yet Lemmy considered himself an anarchist - the very opposite of a fascist. He also said he wouldn't visit a concentration camp because "You've got to draw the line between what you like to collect and what they actually did." That seems clear enough. Besides, one thing seems certain: if you were to tell Lemmy you weren't all that comfortable with his penchant for Nazi memorabilia, he wouldn't give a toss.