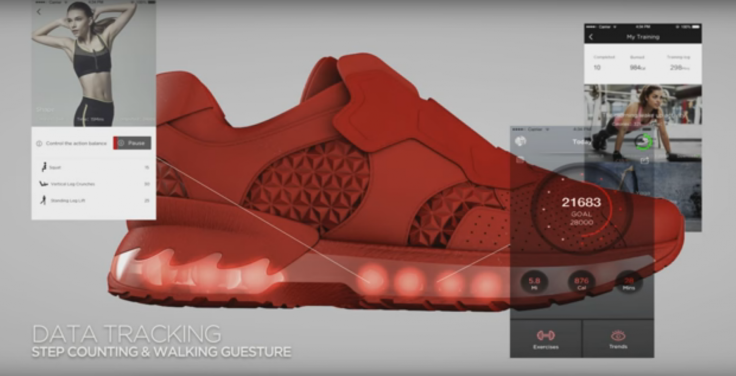 Offering the world a sneak peek at some of its upcoming products, research projects and ideas, Lenovo has introduced a new smart shoes concept at its Tech World conference in San Francisco that can do a lot more than make your next run around the block more comfortable.
Developed in collaboration with Italian outsole maker Vibram, the smart running shoe runs on an Intel Curie wearable chip and sports most of the standard functions you can expect to find in a typical fitness tracker such as step counting, calorie tracking, numerous motion trackers, an accelerometer and a gyroscope to track your next run or everyday movement. However, it does not have a heart rate monitor.
Wearers can even receive customised news and information based on their activity data plugged into their smartphone.
The smart shoes feature a customisable 3D-printed insole, LED lights on the bottom and has a built-in battery. They support wireless charging and can be juiced up by placing them on a charging panel. Users can get 10 days' worth of battery on normal use and 10 hours' worth of battery if you plan to do some intense running.
The sneakers can also be used as a mobile game controller where you step back and forth or jump around and see your movements reflected in the motion-controlled game.
The new wearable does fit into Lenovo's Internet of Things (IoT) strategy "that leverages the cloud to tie together hardware, software and applications in a new way" through smart, connected devices and wearables. Last year, the company demonstrated another smart shoes concept featuring built-in screens that can display your mood, track your fitness data such as calories and heartbeat and give you walking directions.
Currently a proof-of-concept, it might be a while before we see the smart sneakers in stores.
The company has not revealed a price or release date yet. However, product representatives did tell CNET that the wearable is expected to launch later this year. They added that product trials will take place next month.