There are a lot of issues to deal with when one big company (Lenovo) buys another big company (Motorola) but one which neither side would have guess was that the CEO of the former would leak details of the latter's top secret project.
That however is what seems to have happened when Lenovo CEO Yang Yuanqing posted two (now deleted) images on Chinese social media website Weibo which purportedly show what the news Moto 360 smartwatch will look like.
According to Chinese website MyDrivers.com the images were posted online on 19 March with the statement: "Moto 360, matching the arrival of the era of freedom, in the future we want to increase the store features a watch shop."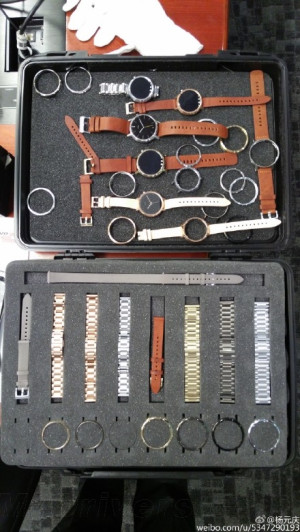 The images show two carrying cases with multiple watch faces and straps. The watch faces, like the original are circular but look much more like traditional watch faces. The original Moto 360 was a relatively stylish smartwatch and was the first to use a circular design however it was bulky and the screen was not a complete circle.
Since the launch of the original Moto 360 in 2014, Huawei has unveiled its much-slimmer Watch which does feature a full 360 degree watch face meaning that the new Moto 360 - if that is what Yang was showing - will need to show significant improvements to compete.
The images show that Motorola is set to expand the range of straps available with the Moto 360, including grey and gold options, and the new Moto 360 could even allow users to add any watch strap they like as it appears the updated smartwatch will support traditional lugs.
Motorola has not commented on the images but the fact Yang deleted the post soon after posting it, indicates the company didn't want everyone looking at what it was working on.
With the Apple Watch launching next month, and everyone from Tag Heuer to Gucci announcing their smart watch plans at Baselworld last year, the market is about to get very crowded and Motorola will have to work hard to make the Moto 360 2 stand out.