Letters fall off slogan behind Theresa May during most calamitous conference speech in memory
Theresa May suffers a coughing fit at party conference.
Comedian Lee Nelson aka Simon Brodkin interrupts with P45 form.
Letters fall off the set.
In what was possibly the most calamitous conference speech in British political history, Theresa May was heckled by a comedian, suffered a prolonged coughing fit and finished her speech in front of a heavily depleted slogan.
The letter "F" fell from the Conservative blue set behind the prime minister, which read: "Building a country the works for Everyone". Then, an "E" also tumbled down while the prime minister was speaking.
After she left the stage, a multitude of letters followed, leaving the Conservative Party's s slogan indecipherable. Given the haphazard nature of the speech, it was hard not to read it as a metaphor.
Theresa May spoke for over an hour on 4 October in a speech designed to revive her troubled premiership in front of a party faithful still bruised by the 2017 general election shock.
Simon Brodkin, the serial prankster, may well get the headlines tomorrow, along with May's rasping voice, which was so hoarse Chancellor Phillip Hammond had to intervene with a cough sweet.
However, when the curtain closed, it was an image of the battered slogan that promised to live on in the memory. Eight letters disappeared from the message of unity and optimism that the Tories have tried to rally round this week. The government was hoping to muster a positive response to the tidal wave of enthusiasm surrounding Jeremy Corbyn's opposition. They did not find it.
Temperatures in the Manchester Central Centre were high when May entered to deliver the keynote speech of the event. She began by apologising for her part in a dismal campaign that saw the Conservatives lose their overall majority in the House of Commons.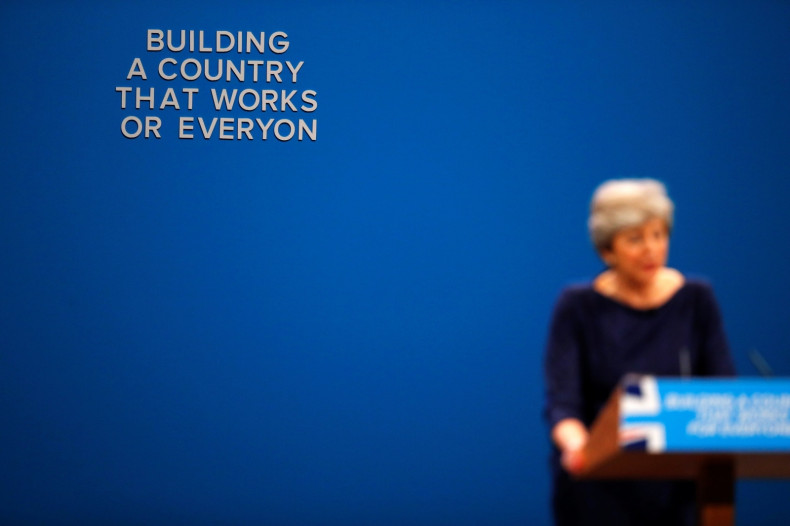 But she may soon be having to apologise again after losing her composure and putting her colleagues and supporters through an agonising hour of flustered public speaking. The uncomfortable heat in the auditorium may have been too much for the adhesive used by the set builders.
If there were doubts about May's leadership before she headed up north then there are serious concerns now. As she closed, no doubt relieved to have stumbled over the finish line, Boris Johnson appeared to be reluctant to offer her the customary standing ovation.
A video posted on Twitter appears to show Amber Rudd ordering the Foreign Secretary off his chair during the applause. Another objective of the event was to put on a display of cabinet unity. This has also not been achieved.
It is difficult to say how May might have fared were it not for the interruption of Brodkin about 30 minutes into her performance. She had been speaking competently, with perhaps a slight hint of a cough, when the comedian best known for his Lee Nelson character waltzed up to the stage and handed her a P45.
Things quickly deteriorated for May after he was removed by security. Her throat got the better of her and she struggled through several key passages of what, underneath, was a frank speech about where the country finds itself and the choices offered by Labour and her own party.
It was painful viewing throughout, poetically capped off by the shower of letters peeling of the set behind her. It was a speech that will not be forgotten in a hurry, much to the prime minister's dismay.