It was meant to be the speech that put Theresa May back on track after a turbulent few months in Westminster. Brexit rows, cabinet in-fighting and a shock general election result put pressure on May's weakening leadership. And this was her time to get a grip on the Conservative party again.
The speech was filled with major policy announcements, such as an energy price cap and money to fund social housing. But its content was overshadowed by the performance.
Coughed up
Early on it was clear that the prime minister was struggling with a cough, which got worse as the speech went on.
At times she struggled to even read the speech, rasping her way through it and relying on sympathetic standing ovations from the hall to give her time to drink water and take a cough sweet from Chancellor Philip Hammond.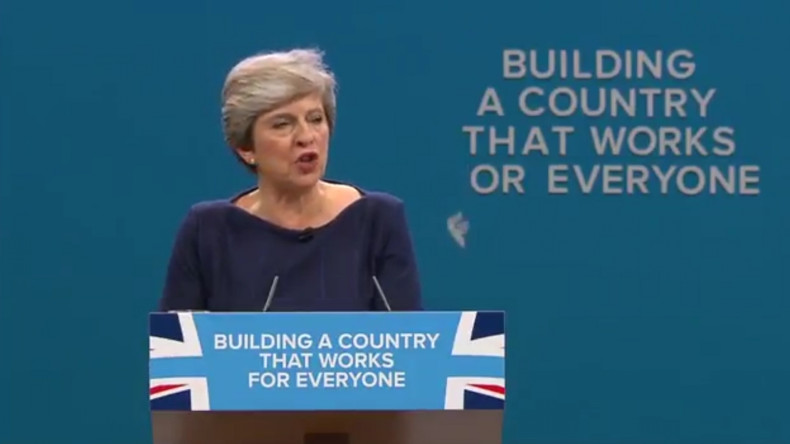 Collapsing words
As she struggled on, the letters spelling out "Building a better Britain for everyone" started to fall off on the wall behind her, a fitting metaphor for the speech itself. By the end several letters were on the floor along with the hopes of Tory activists.
P45
The speech was disturbed about 20 minutes in by the notorious prankster Simon Brodkin, who jumped up on stage and tried to give the PM her P45, a tax form employees receive when they leave a job. Brodkin, who said "Boris asked me to give you this", was escorted from the hall and reportedly arrested for breaching the peace.
Boris the reluctant
The speech was already overshadowed by controversies involving Boris Johnson - who recently undermined his leader by publishing a 4,000 word article on his own Brexit vision before she delivered a major speech in Florence - after he made a gaffe about "clearing the dead bodies away" in Libya.
Then during the speech, as May struggled to deliver it, the conference hall stood up to support her – but Boris had to be prompted by Amber Rudd to actually stand up himself.
Dodgy cough sweets
As May attempted to continue her speech, she was humiliatingly handed a cough sweet by Philip Hammond. Itfailed to improve her voice. May noted that it was a rare thing that Hammond had given something away for free, but also said that the sweet didn't help her much.