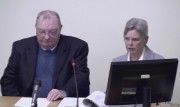 The parents of murdered school girl Diane Watson have told the Leverson Inquiry that the 'sick' articles written about her after her death ultimately drove their 15-year-old son to commit suicide.
Speaking at the Leverson Inquiry into Media Ethics, Mr and Mrs Watson stated that their family was bombarded with countless stories in magazines and newspapers claiming that their daughter, who was stabbed to death by another pupil at Whitehill Secondary in Dennistoun ten years ago, was in fact a bully.
Reliving the weeks following her daughter's murder, Margaret Watson told the Inquiry how the couple struggled to battle the claims printed in newspapers and magazines, such as Marie Claire and the Glasgow-based Herald Scotland newspaper, that succeed in raising questions about their daughter's character and integrity.
Giving evidence, the couple revealed that it was these damming stories written by journalist Jack McLean for the Herald and Marie Claire in the wake of their daughter's death that drove their grieving teenage son, Alan, to take his own life just 18 months later.
The inquiry heard that their son was found holding a note which read: "Sorry, mum and dad, but I just had to be with Diane" along with copies of the offensive articles.
"The Marie Claire one particularly upset Alan because it was a disgrace," Mrs Watson told the inquiry.
"I'm afraid that just became all too much for Alan. I don't blame him, I can understand," she added.
Despite the claims, Herald journalist MrMcLean, who wrote several of the articles, maintains that he spoke to solicitors for both the defence and prosecution in the case in forming the basis of his stories.
Mrs Watson went on to claim that even on the day of Alan's funeral, she and her husband, Jim, were not free from press intrusion, as new derogatory articles by Mr McLean were published in the Herald.
She told the Inquiry at the High Court in London: "They took away his respect. They took away his dignity on the very day we were laying our son to rest. If any journalists here say that's good, then God forgive you because I won't.
"I couldn't believe it. That was the day of Alan's funeral. I thought, at least, they would leave us alone for Alan's funeral.
Mrs Watson was highly critical of Mr McLean's articles and said that there was "no doubt" that "sick" journalism like his drove her son to commit suicide.
She went on to say that the public needed protecting from the press and called on the government to make it an offence to defame the deceased.
She told the inquiry: "Just because a person's died, their reputation shouldn't die with them.
"It shouldn't be dismissed at the will of some sick journalist - because that's what they are, sick.
"They unjustly attack the memory of the deceased.
"You've got to remember - that memory is all the living have of them. So please don't besmirch the innocent to make a case for offenders. It's not right."