Leveson Inquiry: JK Rowling's Daughter Targeted by Tabloids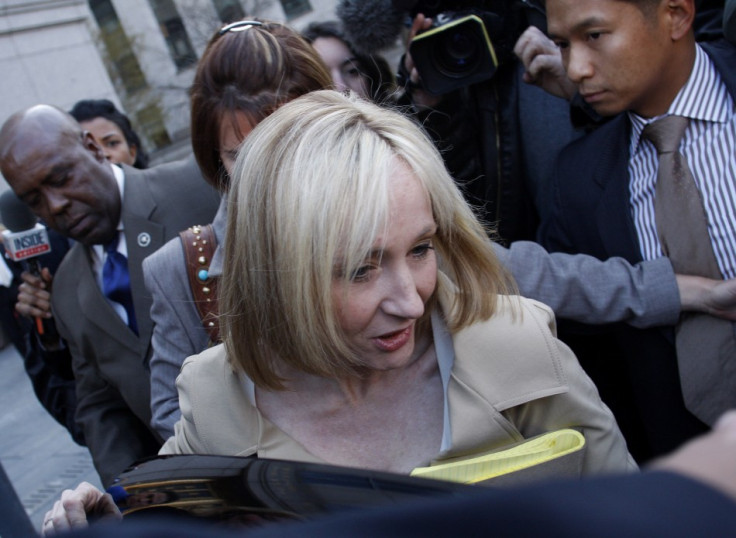 JK Rowling described her desperate attempts at keeping her family life private and protecting her children from the press, at the London inquiry into press ethics and phone hacking.
"It's very difficult to say how angry I felt that my five year-old-daughter's school was no longer completely safe from journalists," Rowling said.
In the "first burst of publicity" in 1997, after the first Harry Potter book came out, her eldest daughter returned from primary school with a letter addressed to Rowling from a journalist, in amongst all the letters and notes from school.
The author was giving evidence to the Leveson Inquiry, on the same day as actress Sienna Miller and former FIA president Max Mosley.
Keeping Her Children's Privacy Intact
She has tried to keep her children's lives private since her meteoric rise to fame after the first Harry Potter book, The Philosopher's Stone, was published.
"A significant section of the press have seen that, in my view, as a challenge," Rowling said.
Rowling was "under siege" and "held hostage" at her home, she said, as a swarm of journalists and paparazzi waited outside.
The only way to avoid having pictures of children being taken was to cover their heads with blankets.
On one occasion, Rowling was on holiday in Mauritius with her children. She thought she was on a private beach, but a paparazzo with a long lens took pictures from a boat, of an intimate family moment with her children on the beach.
Other times saw paparazzi following her on trips out with her children.
Once, after a week inside hiding from photographers, she thought it was all clear. As soon as she stepped out of her house, she spotted a man with a long-lens.
Rushing down the street pushing a pram and clinging on to her other child, she pursued him.
"The cumulative effect - it becomes quite draining," she said, of the pressure of constantly being in the public eye.
"A child, no matter who their parents are, deserves privacy."
'This is One of the Incidents About Which I Feel Most Outrage'
Rowling described one occasion when a journalist contacted the headmaster of her eldest daughter's school.
The journalist asked the headmaster if he had had any complaints from children or parents that Rowling's daughter had been "distressing" them by revealing that Harry Potter dies in the last book, before it had been published.
"This is one of the incidents about which I feel most outrage," said Rowling.
She was anger that her daughter was being "characterised as a bully" and that there was no truth in any of the allegations.
There had been no complaints and her daughter did not know - at her own request - what was going to happen in the final book.
Rowling described herself as "highly contactable" through her PR and agent and said the journalist should have gone to them, but did not.
She said she thought the journalist may have been hoping the headmaster would inadvertently reveal some scrap of information.
'Blagging'
She also revealed that her and her husband had been the victims of "blagging" by journalists, where they call up and try to extract information by deception.
In an unfortunate twist, her husband was expecting a call from the tax office when he received a call.
A journalist pretending to be a man from the tax office managed to coax an address, phone numbers and salary out of Rowling's husband.
The next day, they opened the front door to "flashes" from photographers, who now knew their address.
Another blagging incident was foiled by Rowling. Someone purporting to be from the post office called her, claiming to have a parcel to deliver, but wanted to know the address.
When Rowling started asking questions, the person abruptly hung up.
Being Kept 'Under Surveillance'
Press attention was at its most intense when Rowling gave birth or had another book published.
However, she recalled one incident when two journalists from a Scottish newspaper were camped outside her house in a car.
As time went on and wondering why she was getting this attention, her PR team asked the journalists what they were doing.
Rowling said the journalists' response was "it's a boring day at the office".
"My family and I were under surveillance for their amusement," Rowling said.
Other press intrusions are several different instances where details and pictures of her properties were published.
She said her wish to keep where she lives private "not to be starry", but because she had been the victim of "incidents" and "threats" from "unbalanced individuals". The police had even been involved.
"I think it's reasonable of me to wish the press would refrain from making my whereabouts so easily identifiable," Rowling said.
The attention leaves you feeling "jumpy", she added, and it's "unnerving feeling to know you're being watched".
© Copyright IBTimes 2023. All rights reserved.