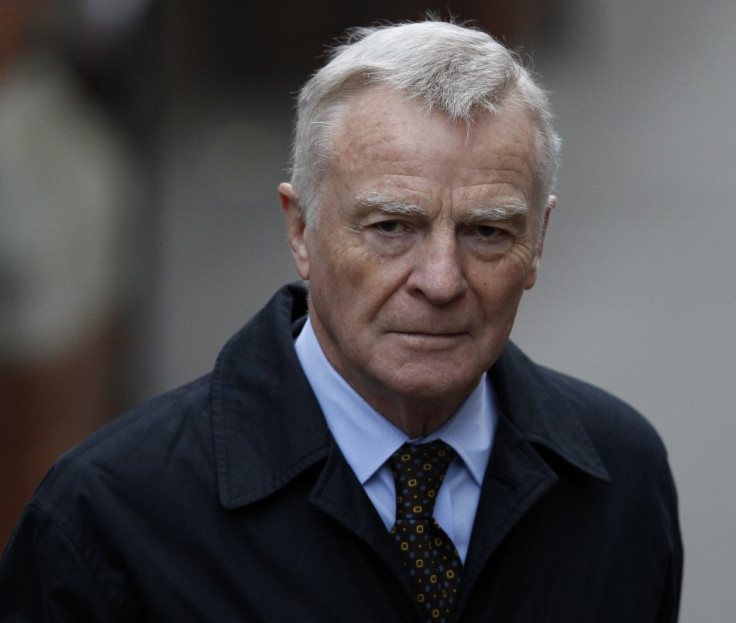 Max Mosley, Ex-Formula One boss, told the Leveson Inquiry into media ethics about the News of the World's damaging Nazi lies.
Neville Thurlbeck, who wrote the notorious Mosley "Nazi orgy" story in 2008, twice emailed the women who had taken part to try and get them to be interviewed.
He offered them a "substantial" amount of money in exchange for anonymity and an interview.
It was suggested that if they didn't comply, unpixelated photos of them would appear in the News of the World, revealing their identities.
Mosley, the former president of the Fédération Internationale de l'Automobile (FIA), a body representing the motoring racing industry, was giving evidence to the inquiry into press standards.
He said the women were "terrified" of being revealed as they held "major positions".
One was a scientist, working in health care and another ran an office, said Mosley.
"They were all terribly at risk. The admirable thing is that they did not succumb to it," he said.
Mosley won a 2010 privacy case against News of the World because the Nazi angle in the story - salient because Mosley's father was Sir Oswald Mosley, leader of the British fascists - was made up.
The only public interest in the story, said Justice Eady in his High Court judgement, would be if the Nazi theme was true - which it wasn't.
He won £60,000 in damages.
"I thought it was outrageous and illegal but the Nazi allegation was completely untrue, and to me particularly extremely damaging and I was outraged by that," Mosley said.
He added: " I wanted to get them into the witness box and prove they were liars"
Footage taken from the camera planted with one of the women that Thurlbeck was encouraging her to get Mosley to do a sieg-heil - the Nazi salute.
News International had put all of their legal resources into the case "to try and destroy me", Mosley said.
"I think they realised that publishing this article was completely illegal."
Mosley said that despite all of the work he's done for motor-racing and the motoring industry, this scandal will be "the number one thing people think of when they hear my name".
He currently has litigation in around 22 countries, to have the videos and pictures originally published by News of the World on their website and have subsequently been republished across the world removed.
He is also suing Google in France and Germany, to try and get Nazi references to him removed from search results.
"If you could breach privacy merely because you disapproved of something, you would be all over the place," Mosley said.
"Sexual behaviour covers a huge variety of things, and when you start analysing it, what I might like someone else would hate and vice versa. Where do you stop?"
"The function of the tabloid journalist to pillory people who like something unusual is completely outdated. It's extraordinary that the tabloid press don't recognise that.
He added that if the press "ambush" you then "no judge on earth can save you", describing legal action as "lose, lose, lose".
Sienna Miller had appeared earlier in the day, before Mosley, where she gave evidence of being spat at by papparazi.