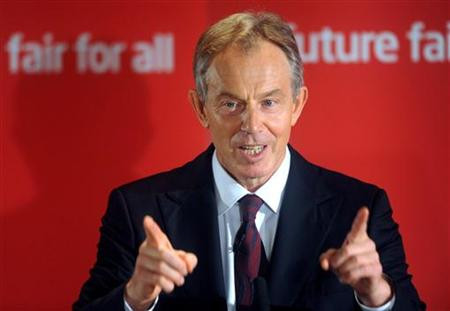 Former prime minister Tony Blair faces the Leveson inquiry on Monday over the Rupert Murdoch deal. Blair is likely to be asked about the nature of his government's relationship with Murdoch while he was in power for a decade.
Blair is scheduled to be grilled for long hours as the inquiry formally starts at 10:00 and ends at 16:00 with an hour for lunch break.
The claim that there was a pact between the Labour leader and the media giant was earlier denied at the probe by Murdoch.
"I, in 10 years of his power, never asked Mr Blair for anything. Nor indeed did I receive any favours," Murdoch had told the inquiry.
The alleged close relationship between the two will be clinically examined during the inquiry.
One of the former cabinet ministers of Blair, Lord Mandelson, told the inquiry earlier: "Arguably the case... that personal relationships between Mr Blair, (Gordon) Brown and Rupert Murdoch became closer than was wise," according to a Press Association report.
Mandelson denied any commercial favour for News Corp in return for its support to the party.
The close relationship between Blair and Murdoch came to the fore only in 2011 when it emerged that Blair became godfather to one of Murdoch's children.
In 1995, Blair flew to the Hayman Island in Australia to address News Corporation executives as part of his party's strategy to reach out to the media. News Corp had strained relations with previous party leaders including Michael Foot and Neil Kinnock.
In 1997, Murdoch's newspaper the Sun switched its loyalties from Conservatives to Labour.
The ex-prime minister is likely to be asked about his office's links with News Corp especially during the BskyB bid.
Blair will be one of the many high-profile politicians who will be facing the inquiry over this week including Culture Secretary Jeremy Hunt, as the probe examines the relationship between politicians and the media.
Home Secretary Theresa May, Education Secretary Michael Gove and Business Secretary Vince Cable are all scheduled to appear before the Leveson inquiry during this week.