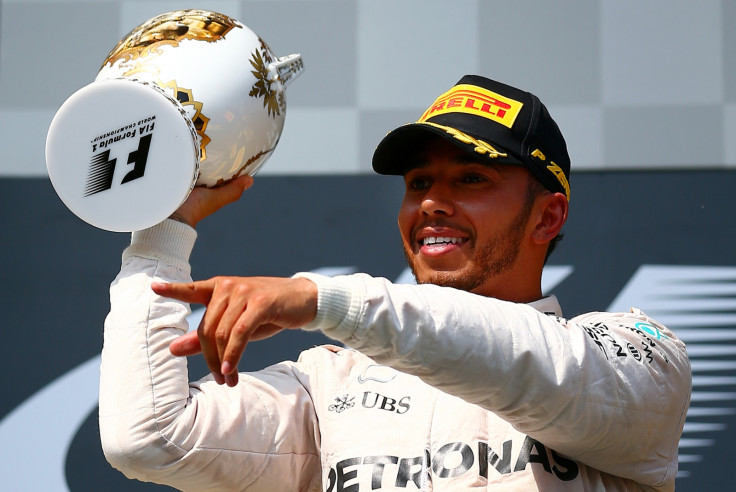 Lewis Hamilton has won the Hungarian Grand Prix to move ahead of Nico Rosberg at the summit of the drivers' world championship. Hamilton, 31, had trailed his Mercedes teammate all season, but a record-breaking fifth career win at the Hungaroring sees him take the top spot. Rosberg started on pole position but was overtaken on the first turn, clinging on to seal second.
Rosberg, who now trails his teammate by six points, was made to rue that early mistake, explaining after the race "it is not possible to pass on this track" having lost first place. The German twice came within half a second of catching up with Hamilton, but the defending champion was able to keep him out on each occasion.
"There was never a moment when I felt that I was going to lose it," Hamilton said. "This is a race where you don't need a five or 10 second gap. I need to do what I just need to do, even if we win by a tenth of a second. I was just managing that gap of about two seconds. When I needed some time, I put my engine where it needed to be and I kept the time."
Red Bull's Daniel Ricciardo claimed a podium spot after finishing third ahead of Ferrari's Sebastian Vettel.
An otherwise uneventful race was kept interesting by the feisty battle between Red Bull's Max Verstappen and Ferrari's Kimi Raikkonen, who finished fifth and sixth respectively. The Finn clipped the back of Verstappen's car and damaging his own front wing in an attempt to overtake the 18-year-old and admitted post-race he felt he had been illegally blocked.
"I've seen people penalised for much less, but it's not my decision," he said.
McLaren's Fernando Alonso took seventh while his teammate Jenson Button endured a frustrating afternoon, dropping to last place due to a hydraulic problem before retiring with seven laps to go.
The German Grand Prix in Hockenheim takes place next weekend before Formula 1's summer break.