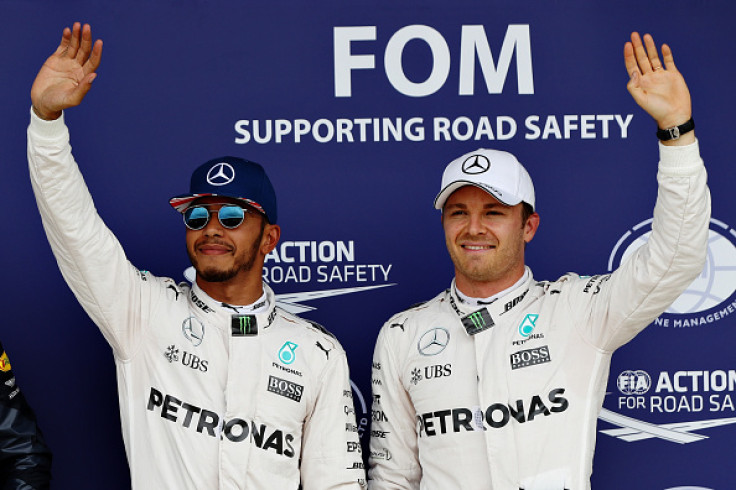 There is no love lost between Formula One drivers Nico Rosberg and Lewis Hamilton who have battled each other throughout their racing careers from karting to the present Formula 1 stable. Despite being teammates at Mercedes, their rivalry hasn't diminished and they are currently on their "final warning" for crashing twice this season.
Rosberg, who started the season brilliantly by winning the first four races before tapering off, has admitted that he has a lot of respect for Hamilton, but they are not the best of friends at the moment.
"Beating Lewis, he is one of the sweetest opponents. He's one of the opponents where you get the greatest satisfaction from beating him because he's world champion", he said to the Guardian.
"I have huge respect for him but, well we're not best friends at the moment. That's the difficulty between us now. We're just both so competitive and that makes it difficult to be friends because the competition is so extreme."
The pair have had a calamitous relationship especially on the track, with each trying to gain an upper hand over the other. In fact, they have been involved in four collisions during their time as teammates, with their rivalry dating back to the time they were starting their careers in karting.
"It was the same back then. How many pizzas we could eat? Who could run fastest from the lift to the hotel room? It would be competition all the way but there was not the surrounding influence with a team, the media and money. That makes it difficult now. I do recognise his achievements. He's done some great things and he's been beating me. I have to fight back and that's the challenge", he added further.
The German who is yet to win a Formula One title is currently in the lead in the F1 Driver standings with 168 points, just one point ahead of Hamilton who is second with 167. The duo will next be seen in action at the Hungarian Grand Prix with the first practice session scheduled to start on 22 July.