Formula 1 Silverstone 2013: Rosberg Wins, Hamilton One of Four Drivers Hit by Tyre Failure [VIDEO]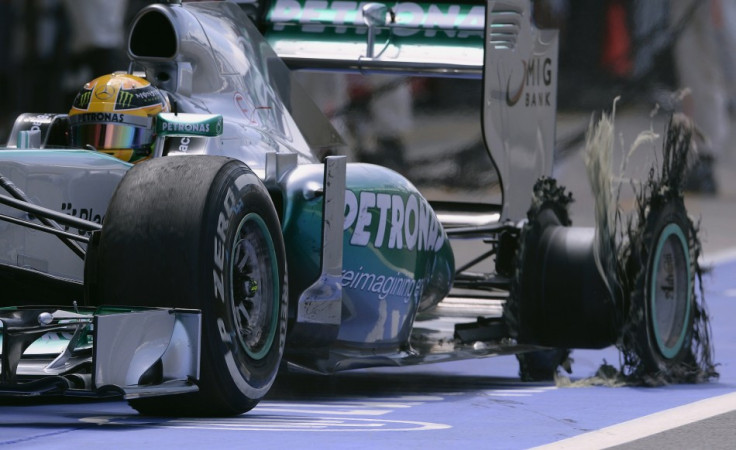 Nico Rosberg won the British Grand Prix at Silverstone after a dramatic race in which four drivers, including local hero Lewis Hamilton, suffered tyre failure.
Hamilton, who began the race in pole position, was the first driver to suffer a blowout in the left rear tyre, during the eighth of the race's 52 laps. After resuming in last place he managed to force his way back to fourth, but ran out of laps in his scramble for a podium finish.
Felipe Massa, Sergio Perez and Jean-Eric Vergne all suffered near-identical catastrophes later on in the race, while Red Bull mechanics said they also found cuts in Sebastian Vettel's left rear tyre when he pulled in for a pit stop.
Although Vettel, who took over the lead when Hamilton's rubber exploded, was able to survive his own brush with tyre failure, he suffered his own calamity with just 10 laps to go. As the chequered flag neared, the German's gearbox gave way and he was forced to withdraw.
The litany of glitches handed victory to Vettel's compatriot Nico Rosberg, who claimed his second chequered flag in three races by a margin of 0.7 seconds, despite a furious challenge from Vettel's team-mate Mark Webber at the death.
The victory lifts Rosberg into sixth place in the Drivers' Championship, while Vettel remains in first place, although his lead over Fernando Alonso has been cut to 21 points.
Afterwards, Rosberg said, "Fantastic, a very special day. What makes it more special is that our factory is so close.
"We're progressing all the time. We're massively quick in qualifying, and we had the fastest car in this race."
Rosberg was quick to sympathise with his Mercedes team-mate Hamilton: "With Lewis, I feel sorry for all the British fans. It's always a massive disappointment but that's racing. Sebastian stopped, I won't lie, I wasn't disappointed by that one."
Criticism
Following the incredible string of blowouts, questions are certain to be asked about the safety of the tyres provided by Pirelli - which has faced severe criticism at several recent races due to peeling tyre tread.
However, many experts have also questioned the state of the Silverstone circuit, arguing that debris strewn around the track caused the chain of punctures witnessed this afternoon.
McLaren chief executive Jonathan Neale told the BBC: "There is a lot of debris out there but I'm working in the dark at the moment. We've not heard anything from Pirelli.
"The drivers have done amazingly well under the circumstances. We have to make sure our drivers are safe."
To watch a video of Hamilton's blowout, click on the video below.
© Copyright IBTimes 2023. All rights reserved.