LG has launched its Intelligent Voice Recognition simply named Quick Voice on 20 June in Korea. Basically, it functions similarly to Siri and S Voice allowing you to talk to your phone and ask it to perform certain tasks like checking the weather, searching the web or making phone calls. The Quick Voice features voice telephone, letters, address book, alarm and calendar; 11 apps can run as well.
The Quick Voice is claimed to be having the ability to handle commands by utilising natural language processing technique. Unlike Siri and S Voice, Quick Voice will not be restricted to a single device but will be added to the existing Optimus range of smartphones, according to GSM Arena. The service is expected to be added to the Optimus Vu in late June and the Optimus LTE2 in July. However, there is no word from the company as to when the service will be rolled out globally.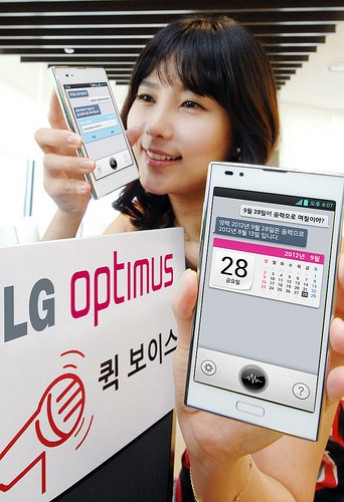 The new Quick Voice is expected to compete against Apple's Siri and Samsung's S Voice. Apple first introduced Siri voice assistant on the iPhone 4S back in October which is now available in the new iPad as well. The intelligent personal assistant makes use of natural language user interface to answer user's questions. It lets you use your voice to send messages, schedule meetings, set reminders, make phone calls, check the weather and set an alarm.
The tech giant's move to lend its technology to connect the car to its iPhone could attract users as well as give a "big boost" to the implementation of Siri, according to Reuters. "It makes the iPhones more valuable to the user, said Mark Boyadjis, infotainment analyst with IHS Automotive, according to Reuters. "To be able to access it hands free and eyes free in the car will be an asset and will enable the Apple device to be continually more relevant in the car," Boyadjis added.
Samsung's S Voice will set alarm for you, play songs, send messages, organise schedules as well as check the weather. It can launch the camera and take photos, launch apps and perform turn-by-turn navigation. "S Voice is about 90% as good as Siri, given that all we use for now is setting a timer or making it say funny things," elaborates Tech Radar.