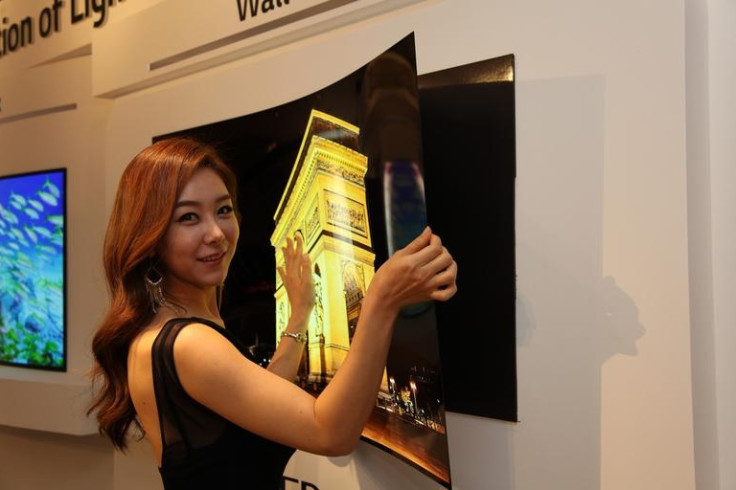 Just as you thought televisions were already as thin as we ever needed them to be, LG has revealed a set which is just 0.97mm thick, and although it is 55in diagonally, it weighs only 1.9kg, meaning instead of traditional brackets drilled into the wall, this TV can be held in place with magnets.
The OLED panel, shown off at a press event in South Korea, is just a proof of concept for now - but so was 4K and Ultra HD a few years ago, and now that's available on your high street.
Dubbed the "wallpaper" television, it is also curved and can be peeled off a magnetic mat stuck to the wall like a fridge magnet. The screen is part of LG's wider plans to finally bring OLED screens to the masses.
Despite being much, much thinner than LED panels and offering darker blacks, OLED televisions have been too expensive to produce in large quantities. The OLEDs also emit their own light, negating the need for a backlight, which is responsible for much of the thickness of current TV sets.
Manufacturers such as LG and Samsung have struggled with yield problems when it comes to OLED production, where too many displays produced do not function properly, making manufacturing more expensive.
These costs have been passed on to consumers, who can expect to pay a hefty premium over LED sets of the same size. But LG hopes these problems will soon be overcome, with sales of its own OLED panels set to increase from 600,000 this year to 1.5 million in 2016.
However, OLED televisions are not expected to become ubiquitous for another five to 10 years, according to Ching W. Tang, a professor at the University of Rochester in New York and known as the father of the new television technology.