LG believes in OLED as the future of display technology and along with launching seven new organic light emitting diode TVs for 2015 - including one that can turn from curved to flat at the flick of a button - the company has announced a $600m (£395m) investment to supercharge production and drive adoption.
For many years at the Consumer Electronics Show, manufacturers such as LG, Samsung and Sony have said it was the year when OLED TVs would make a breakthrough.
So far, these announcements have all been false dawns and no matter what anyone says in Las Vegas at CES, 2015 will not be the year OLED breaks through either. The problem? Price.
OLED has been touted as the coming technology in flat panel TVs for some years now but until very recently, production yield problems have meant LCD TVs continue to dominate.
LG supercharging OLED production
While Samsung and Sony's resolve to push OLED production forward has waned, South Korean giant LG is not backing down and clearly believes this technology is the future.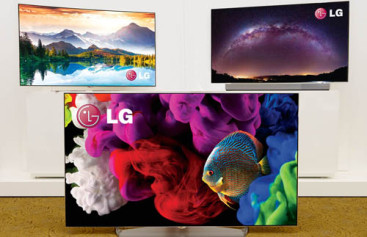 It is seeking to supercharge that production problem with its $600m investment in order to quadruple the volume of OLED panels produced at more than a dozen of locations around the world.
During LG's press conference, Tim Alessi, the head of new product development at LG Electronics USA's home entertainment division, said OLED TV sales would reach the one million mark by 2016, though he did not give any figures for sales to date.
The company launched the world's first 4K OLED TV at CES last year but with a price tag of £6,500 for the cheapest model, it will be difficult for LG to reach this goal.
It is likely to be the full HD versions of the company's OLED range that drive sales, with prices starting at £2,500.
Curved to flat 'at the flick of a switch'
LG's seven 4K OLED displays for 2015 range in size from 77in down to 55in, with the most interesting model featuring a flexible display that can change from a curved to flat aspect "at the flick of a switch".
Alessi spoke at length about how OLED is the best TV technology out there, claiming how its ability to generate perfect blacks was "the most important aspect of a great TV".
LG has not announced any pricing or availability for its 2015 range of OLED TVs but do not expect prices to drop significantly for a number of years yet.
4K to go mainstream in 2015
While the company is clearly betting big on OLED, that is still a very minor part of the overall TV market and it is 4K resolution panels that will dominate sales in 2015, according to the South Korean company.
Research by the Consumer Electronics Association launched at CES this week suggests the TV market will return to growth in 2015 and 4K will be a big part of that. Interestingly, China is set to account for 57% of all 4K TV sales in 2015, while sales in the US will top four million units.
To reflect this, 60% of all LG TVs in 2015 will have Ultra High Definition resolution ranging in size from 43in all the way up to 105in, with 34 separate models available in total.