Chat show host Ellen DeGeneres preached a message of tolerance and personal acceptance after winning the #Squad accolade – the post-millennial term for an empowered group of like-minded people – at the Kids Choice Awards.
The 59-year-old comedienne, who also won Favourite Voice From an Animated Film and Most Wanted Pet for her role as Dory in Disney's Finding Dory released in 2016, came prepared as she took the stage to make a personal speech.
Addressing the young audience, she said: "It means the most to me that you would want to be in my squad. That, to me, is the biggest compliment that I would win #Squad."
"So here's what I would like to do because I would like for you to be in my squad," she added. "I would like everyone to take an oath so that you can be in my squad. Raise your left hand. No, I'm sorry. Raise your right hand. Raise them both. And just repeat after me…"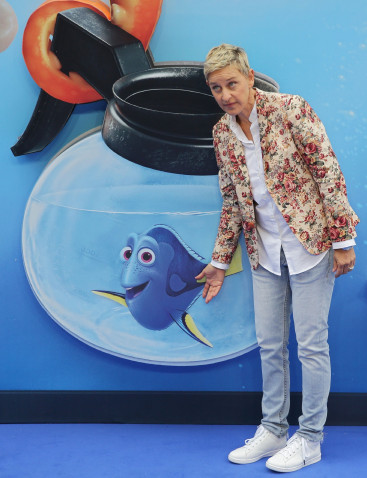 "I am good enough just as I am," DeGeneres recited as the children followed. "I am supposed to be unique and different. I'm not supposed to be like everyone else. I promise to be kind to people. I promise to brush my teeth every day and floss.
"And watch the Ellen show every single day. I love you all. You're in my squad!" she concluded.
The message holds particular pertinence for DeGeneres, who paved the way for celebrities to come out as gay when, during an interview on the Oprah Winfrey Show in April 1997, she publicly revealed her sexuality.
The revelation followed months of rumours that swirled into a media frenzy, especially as her character on the Ellen show – a sitcom separate to her current chat show – had also come out as gay in the summer of 1996.
Speaking to Oprah at the time she said: "It's something I decided I wanted to do and thought it would be wonderful for me as a result.
"I never thought it was anybody's business, who I am and who I am with. And then I realised since I had this secret that worried me all the time that it made it feel like something was wrong."
DeGeneres was awarded the Presidential Medal of Freedom by Barack Obama in 2016 for her trailblazing work on LGBT rights.
However, the Trump administration recently rescinded a transgender toilet ruling implemented by Obama. DeGeneres slammed the move on Twitter, decrying the move as an assault on "human rights" and "not okay".