US President Barack Obama hosted his final Presidential Medal of Freedom Ceremony – the nation's highest civilian honour – at the White House on Tuesday, 22 November, celebrating 21 individuals for their contribution to the US.
Bringing star appeal to the event were Robert De Niro, Ellen DeGeneres, Diana Ross, Tom Hanks, Bruce Springsteen, Michael Jordan and Robert Redford, who were all felicitated for their service to America.
"It's useful, when you think about this incredible collection of people, to realise this is what makes us the greatest nation on earth," Obama said taking a dig at Donald Trump's promise to "make America great again". "Not because of our differences, but because in our differences we find something in common to share. And what a glorious gift that is," he added.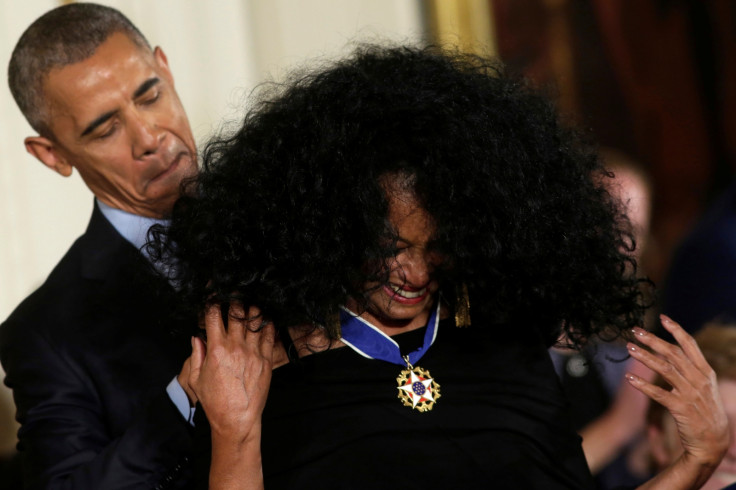 Speaking from the East Room of the White House, the president joked about some of the recipients, teasing Jordan for being "more than a meme". "There's a reason you call somebody 'the Michael Jordan of,'" he said. "The Michael Jordan of neurosurgery, or the Michael Jordan of rabbis, or the Michael Jordan of outrigger canoeing. They know what you're talking about."
DeGeneres, who had a bit of trouble entering the White House after she forgot to carry her ID, turned emotional as Obama spoke about the strength and courage it took her to come out as gay, almost 20 years ago. "To see someone so full of kindness and light, somebody we liked so much... challenge our own assumptions... remind us that we have more in common that we realise," the president said.
"But as Ellen says, 'we all want a tortilla chip that can support the weight of guacamole'... which really makes no sense to me," he joked, adding that he was "getting kind of choked up".
And yes, the attendees took the opportunity to do the Mannequin Challenge, which DeGeneres then posted a video of, on her Twitter account.
Other recipients of the prestigious medal included Blackfeet Tribal community leader Elouise Cobell (posthumous), polymath physicist Richard Garwin, Bill and Melinda Gates, architect Frank Gehry, NASA software engineer Margaret H Hamilton, computer software programmer Grace Hopper (posthumous), artist Maya Lin, Saturday Night Live Producer Lorne Michaels, attorney Newt Minow, educationist Eduardo Padrón, broadcaster Vin Scully and actress Cicely Tyson.
"Everyone on this stage has touched me in a powerful personal way," Obama said at the ceremony's closing. "These are folks who have helped make me who I am and think about my presidency."
The video of the complete ceremony will be made available here.