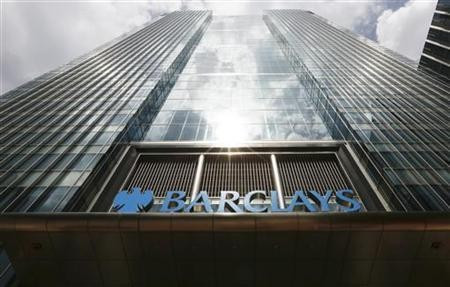 A group of Barclays employees, potentially linked to the rigging of key interbank lending rates, have lost a High Court bid to remain anonymous in a case brought by a British healthcare firm accusing the bank of mis-selling interest rate derivatives.
Guardian Care Homes Ltd (GCH) is suing Barclays over a dispute linked to the value of interest rate swap agreements (IRSAs) that were tied to the benchmark lending rate known as Libor. The 24 bankers had argued that, as they weren't a part of the GCH lawsuit, their names should not be published.
Judge Julian Flaux rejected that request Monday on the basis that he did "not see that there is any sufficient case of prejudice to the trial" but added that the names won't necessarily be published before the trial and anything the bank discloses is still subject to confidentiality under court rules.
Barclays is the first UK lender to face legal action for allegedley mis-selling interest rate derivatives after GCH filed a £38m ($60m/€45m) complaint in June of last year - just days after Barclays settled for a record £290m fine with US and UK regulators for its role in the manipulation of global interbank lending rates.
The dispute may determine how the courts will settle future mis-selling and rate manipulation claims, say lawyers.
A Barclays spokesperson told IBTimes UK: "The fact that someone is named in hundreds of thousands of pages of documents following a wide-ranging three-year investigation in which no stone was left unturned does not necessarily mean that person was involved in any wrongdoing ... many entirely innocent individuals may be referred to in the documents underpinning the settlements with regulators."
IBTimes UK has reported extensively on the case and SMEs filing legal challenges over the alleged mis-selling of derivatives.
The GCH case centres around IRSAs, loans and finance deals with Barclays between 2007 and 2008.
IRSAs are contracts between a bank and its customer where typically one side pays a floating, or variable, rate of interest and receives a fixed rate of interest payments in exchange.
They're used to hedge against extreme movements in market interest rates over a given period. Companies that have seen the value of these products move against them as rates fell during the recession, now owe banks crippling sums of money in interest payments each year.
One of Barclays key arguments against GCH is that the group had a number of senior executives that were sophisticated enough as investors to understand the complexities of the IRSAs it had bought.
The Barclays spokesperson said: "This business had a suite of advisers and a lot of financial experience and skill in-house. Barclays understands the client entered into their swap agreements with sufficient understanding to exercise their own judgment as to whether the products would meet their business objectives. This is a significant business which owes Barclays £70m."
The ongoing case is Graiseley Properties Ltd. & Ors. v. Barclays Bank Plc, High Court of Justice, Queen's Bench Division Commercial Court (No. 12-1259)