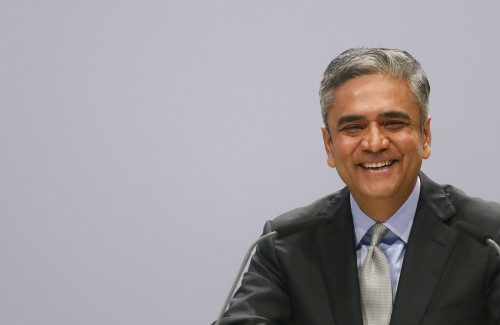 Deutsche Bank has cleared its co-chief executive Anshu Jain of any involvement in the manipulation of interbank lending rates, as part of an internal investigation being carried out by the bank.
According to a report by German newspaper Frankfurter Allgemeine Sonntagszeitung, citing unnamed supervisory board sources, Deutsche Bank has already raked through reams of documents and conducted hundreds of interviews with employees and has cleared Jain of any involvement.
Deutsche Bank declined to comment on the reports.
On 20 January, Deutsche Bank unveiled a plunge in profits after stumping up billions of euros in financial scandal fines and litigation fees.
The German lender posted a surprise pre-tax loss of €1.15bn (£948m, $1.6bn) for the fourth quarter after being hit by heavy litigation and restructuring fees as well as a number of fines stemming from lawsuits and other regulatory investigations.
"We expect 2014 to be a year of further challenges and disciplined implementation," said the group in a statement while also pledging to hit its 2015 targets.
The group was originally scheduled to report results on 29 January.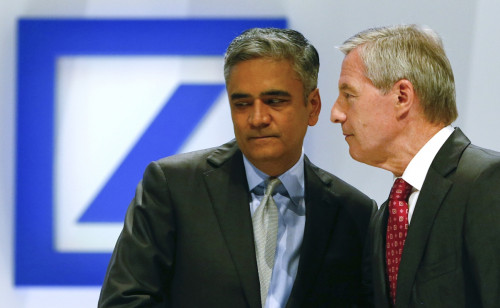 Deutsche Bank paid €528m in the fourth quarter for litigation costs. This brings its total bill for fines and settlements to €2.5bn.
Last month, eight banking giants were fined a combined total of €1.71bn by the European Commission for rigging the key benchmark interest rates Libor and Euribor.
Deutsche Bank, as well as Barclay, Société Générale, RBS, UBS, JPMorgan, Citigroup and RP Martin were part of two separate illegal cartels which conspired to manipulate Euribor and Libor to benefit their own positions in euro and Japanese yen-denominated interest rate derivatives markets.
Deutsche Bank's co-CEOs Juergen Fitschen and Jain are charged with the task to transform the group's reputation and culture.
Meanwhile, Deutsche Bank is also conducting another internal probe into whether traders have tried to rig key foreign exchange rates. The latest reports claim that the lender suspended one New York based trader who deals in Argentian pesos, after allegedly finding emails that indicated attempts to manipulate benchmark foreign exchange rates.