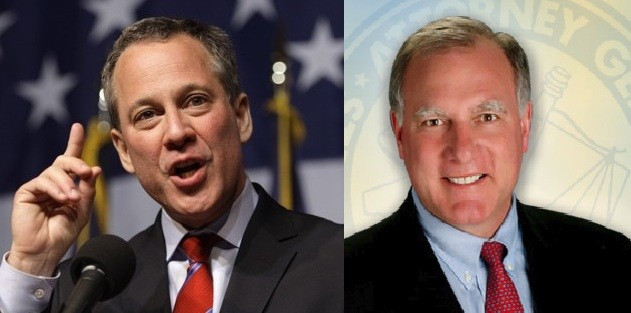 The joint probe by the New York and Connecticut attorneys general into alleged Libor manipulation has added nine additional banks to its far-reaching investigation.
According to unnamed sources cited by the Wall Street Journal and the Financial Times, New York head prosecutor Eric Schneiderman and his opposite number in Connecticut, George Jepsen, have issued subpoenas to Lloyds Banking Group, Rabobank, Société Générale, West LB, Credit Suisse, Bank of America, Bank of Tokyo Mitsubishi UFJ, Royal Bank of Canada and Norinchukin Bank.
The development follows the seven subpoenas issued to Deutsche Bank, Barclays, JPMorgan Chase, RBS, HSBC, UBS and Citigroup in August this year by the same office, which is investigating the banks it suspects of rigging the benchmark interbank lending rate.
Schneiderman and Jepsen's civil investigative demands for documents and records of communications started this summer, said the sources.
Of the nine banks asked for comment by IBTimes UK, six were available for comment when this story was published. Credit Suisse, Rabobank and Societe Generale declined to comment.
Libor Investigations Continue
After Barclays settled for a record fine with US and UK regulators over its involvement in manipulating Libor, otherUS, EU, UK and Asian regulators launched a number of investigations into other banks, as well as Barclays, to determine whether they had been involved in rigging or colluding to fix Libor rates.
While Barclays has settled with the US Commodity Futures Trading Commission (CFTC), US Department of Justice (DoJ) and the UK's Financial Services Authority (FSA), it is still under investigation by a number of other US regulators, as well as others from different jurisdictions.
On top of Schneiderman and Jepsen's investigations, the Florida attorney general Pam Bondi's office has subpoenaed a total of 14 banks.
Technically, every US state is able to investigate and press for civil charges against banks, should the firms' activities fall under their jurisdiction.
European states such as Switzerland and the Netherlands are also actively investigating banks that are responsible for setting Libor, and Asian authorities have already found evidence of wrongdoing, leading to some banks being banned from setting the rate again.
However the investigations have led to a number of mixed reactions by politicians, with the most recent criticism coming from two US Senate Republicans who have hit out at Treasury Secretary Timothy Geithner for his inaction and lack of disclosure over the banks he suspected of manipulating Libor, which has resulted in a "deluge" of lawsuits that has cost the US taxpayers a significant amount of money.
Senator Chuck Grassley of Iowa and Senator Mark Kirk of Illinois slammed Geithner in a letter, saying his failure to inform the public of a rigged benchmark interest rate, which is linked to trillions of dollars' worth of financial products, has resulted in a number of lawsuits which will take a significant amount of time and money to investigate.