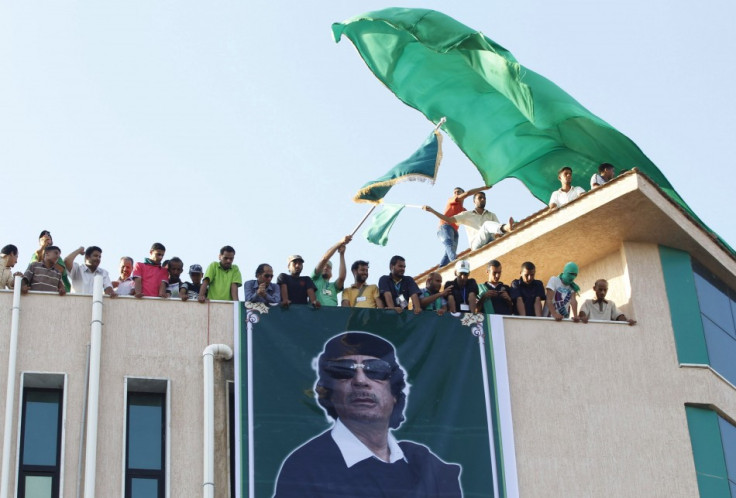 While the international community battles over road maps, peace talks and cease fire plans, saying they are in touch with the Libyan government, one leader, Muammar Gaddafi seems blissfully unaware that he supposedly is on the brink of accepting a deal that will force him to step down from power.
Ridiculing all the parties involved either on a military or diplomatic level, the Libyan leader has ruled out any negotiations with rebels over the future of the North African country.
Despite U.S. Secretary of state Hillary Clinton attending a meeting in Turkey last week, to discuss the future of Libya with officials from 32 countries, Gaddafi on Thursday, proved that he still rules and has no intention of leaving.
Addressing the crowdin an audio message broadcasted to thousands of supporters at a rally in his home town of Sirte, a city halfway between Tripoli and the opposition-held Benghazi, Gaddafi said there would not be any talks between him and the opposition until what he called "judgement day".
The rebels have been seeking to end his 41-year rule for six months, and despite the support of NATO, a bombing campaign on Tripoli and supplies of weapons being handed over to them by both France and Qatar, they have not yet managed to oust the former "freedom fighter" and leader of the Libyan Arab Jamahiriya.
Col Gaddafi has now clearly proven he is still a tough adversary as neither military force nor diplomatic efforts seem to have an impact on him.
Despite soldiers' defections, cash and fuel shortages and half of the world trying to oust him, Gaddafi does not seem inclined to step down any time soon.
Also, the leader still has his loyal followers as while western aircraft hit two rocket launchers and three armed vehicles around Misratah and 13 targets in and around Zliten, the next town to the west on the road to the Libyan capital Tripoli, in Sirte, his supporters wore green hats, had their faces painted with pro-Gaddafi slogans while waving the Libyan flag.
One of Sky's chief correspondents Stuart Ramsay was among a group of foreign journalists who were taken to the rally by the Tripoli government and said "Colonel Gaddafi's message is winning over everything else. The message is, "NATOroutinely kills children and the rebels are foreigners'. It is as simple as that."
Ramsay added: "Sirte remains very much a Gaddafi stronghold. His military is here and his tribal roots are here.
"It is only a few months ago the rebels thought they were going to be able to take this city, but that is not the impression you get anymore."
So is Gaddafi mocking the international community, or is the international community mocking him by suggesting that he is preparing to leave? Unfortunately, only time will tell it seems.