Libya Prophet Attack: Obama Warns 'Justice will be Done' over US Benghazi Killing [VIDEO]
Barack Obama condemns killing of US ambassador and says relations with Libya will hold firm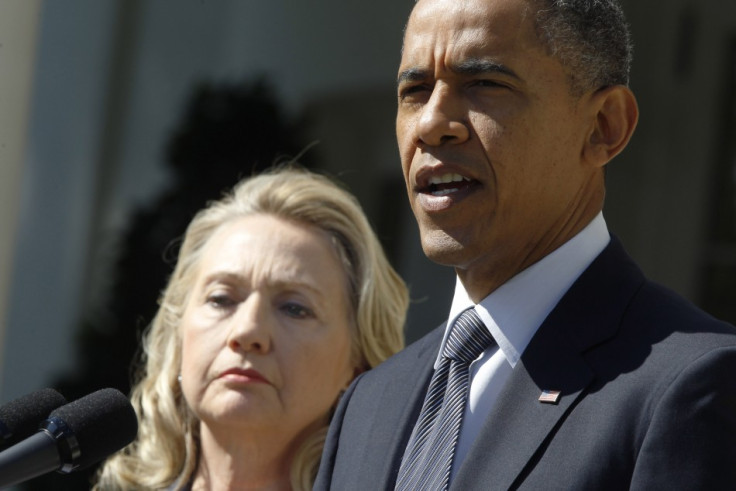 US president Barack Obama has strongly condemned the "outrageous" attacks on the US consulate in Benghazi, Libya, which led to the death of US ambassador Chris Stevens. Three other people were also killed.
Obama said that justice would be done and that the US would work with the Libyan government to apprehend the killers.
"We will not waver in our commitment to see that justice is done for this terrible act - and make no mistake, justice will be done," Obama said.
"The American people stand united in holding the families [of those killed] in our thoughts and in our prayers.
"At the height of the Libyan revolution Chris led our diplomatic post in Benghazi. [Stevens] worked to support this young democracy," said the president.
Stevens, 52, who spoke Arabic and French and had already served two terms in Libya, was confirmed as America's ambassador to the country earlier in 2012.
"These four Americans stood up for freedom and human dignity. Their work will live on," Obama said of the victims.
The president underlined how relations between the US and Libya would not be affected by the incident.
"This attack will not break the bonds between the US and Libya," he said. Some Libyans stood in defence of the ambassador and "carried his body to the hospital" where he was pronounced dead, he added.
Innoncence of Muslims Inflames Anti-American Rage

The US president also indirectly condemned Sam Bacile, the author of the anti-Islamic movie that sparked the violence in Libya and Egypt.
The attacks were sparked by the release of YouTube footage of Innoncence of Muslims.
In the 13-minute trailer the Prophet Mohammed is depicted as an illegitimate son and feckless philanderer who approved of child sexual abuse.
According to Islam's most profound tenets it is offensive to depict the Prophet in any way.
The movie, which cost $5m, was funded by more than 100 Jewish donors, the Washington Post reported.
Bacile, an Israeli Jew real estate developer, shot the movie last year in California with a cast of 59 actors and 40 crew.
He said he believed the movie would help fellow Americans by exposing Islam's "flaws".
The movie was also being promoted by American preacher Terry Jones, who sparked worldwide riots after burning a copy of the Koran in 2010, and by an Egyptian-American Copt, Morris Sadek, who is linked to the controversial preacher and who advertised the movie on his Arab-langauge blog.
"Since our founding the United States has been a nation that respects all of faiths, we reject all efforts to denigrate the religious beliefs of others but there is absolutely no justification to this type of senseless violence, none.
Stevens was killed when he tried to help evacuate staff as the consulate building came under attack by a mob guns and rocket propelled grenades.
© Copyright IBTimes 2023. All rights reserved.