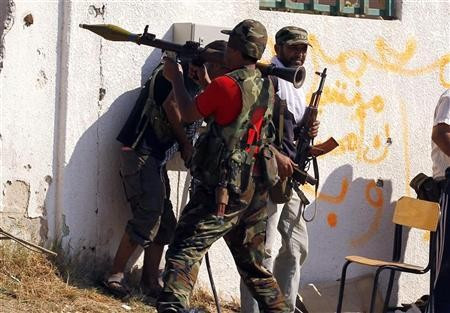 Rival Libyan militia groups continued to clash over the weekend outside Tripoli and at least seven fighters have been killed in one of the most violent clashes since the downfall and death of Muammar Gaddafi.
The clashes took place around Imaya, a former military base set up by the Gaddafi regime, located on a road that links the capital to the port town of Zawiyah.
The military base is close to an oil and gas facility near Zawiyah and the oil refinery is considered crucial as it pumps supplies to Tripoli.
The warring groups used rockets, mortars and machine guns, witnesses reported. The fighting started last week and the death toll now totals up to 13 dead.
It is not clear yet what started the violence, but sources said the local Weshifanna militias set up roadblocks in the area and that Zawiyah fighters rushed to the area in response.
They were also claims that the Zawiyah fighters were fighting Gaddafi loyalists or even that Gaddafi's son Saif al-Islam was trying to organise an insurgency, but Mahomed Sayeh, the National Transitional Council representative for the Wershifanna area, said that was "a false rumour."
Abdul Hamis Kahir, a commander for the NTC fighters that had set up a roadblock outside of Zawiyah, blamed the violence on young hotheads.
"Some teenagers, they make problems," he said."Most of the fighting is because of the young people".
The NTC claimed they had negotiated a ceasefire but local sources said the fighting continued and Sunday afternoon NTC forces blocked access to the area, preventing journalists from moving forward.
Libya's civil war has left the country deeply fractured and awash with weapons. While the country was divided between supporters of the former regime and rebel fighters these tensions are still surfacing.
Fighters that fought for the NTC are said to still be angry at people from towns which were seen as Gaddafi strongholds. Analysts had also warned about tribal feuds.
The country also has to deal with thousands of internally displaced people, left without a place to live.
As tensions and grievances continue to grow, infighting between warring groups continue and just two weeks ago, fighting broke out in central Tripoli between rival rebel groups from Misrata and Zintan.
Libya's new Prime Minister Abdurrahim El-Keib has vowed to disarm the country but has yet to officially form a government and announce concrete actions to collect the thousands of weapons distributed or stolen during the conflict.
Also, observers are becoming more and more worried at the NTC's inability to explain most of the clashes as it is becoming difficult to understand who fights who and for what reasons.