Autonomous cars will create a 'passenger economy' worth $7 trillion (£5.4tn) annually by 2050, technology company Intel has claimed.
In a report compiled for Intel by Strategy Analytics, the company says the self-driving industry will grow from $800bn in 2035 to $7tn just 15 years later. Intel also predicts that, between 2035 and 2045, some 585,000 lives could be saved thanks to autonomous cars being safer than those driven by mistake-prone humans.
The report states: "Autonomous driving technology will enable a new passenger economy worth $7tn in 2050. It will drive change across a range of industries, displacing vehicle ownership with mobility-as-a-service, and defining a new landscape of concierge and ride-hailing services, as well as pilotless vehicle options for businesses in industries like package delivery and long-haul transportation."
On that last note, Google's self-driving car division Waymo announced this week it is working on creating a self-driving truck, no doubt similar to those of Otto, the autonomous road haulage branch of Uber.
Intel believes that $7tn will be split fairly equally between consumer mobility-as-a-service ($3.7tn) and a business-facing equivalent ($2.9tn), while the remaining circa $200bn will come from what the report calls "new and emerging pilotless vehicle services". These could include entertainment services for self-driving car passengers, or even services like medical checkups.
At this point, it is worth pointing out that Intel has a strong vested interest in the autonomous vehicle market becoming a success. It has invested countless millions of dollars into developing the underlying technology to make driverless cars function. It recently bought Israeli autonomous vision company Mobileye for $15bn, will spend $250m over the next two years on self-driving technology, and is working with BMW to put robot-driven cars on the road later in 2017.
As well as the enormous potential financial gain from a society shuttled by autonomy, Intel sees a near-future where more than 250 million hours of wasted commuting time is saved every year, helping consumers to be more productive (or distracted by paid-for streaming media services) when stuck in traffic.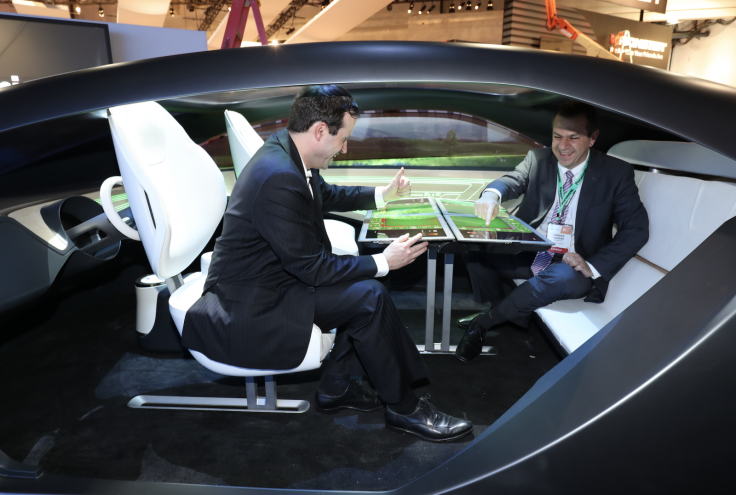 A common theme in the report is that of autonomous "pods" used for a variety of purposes. For example, delivery pods will "use autopilot to deliver items as received from their dispatch location", while "experience pods" can offer "on-board beauty salons or touchscreen tables for remote collaboration". Such pods could also be managed on a fleet basis, autonomously ferrying passengers or delivering goods, then recharging and restocking at a "larger mother-shop vehicle", the report envisions.