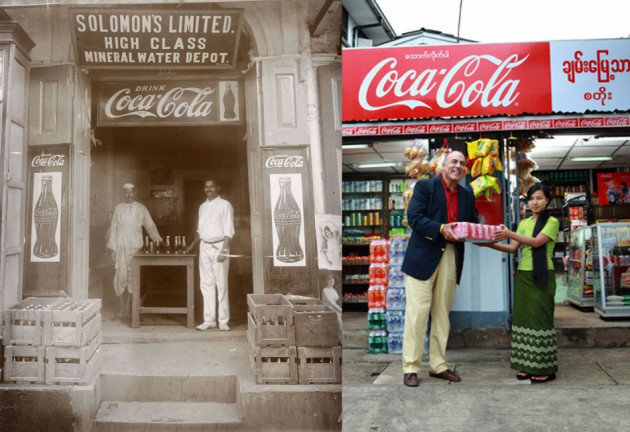 The Coca-Cola Company has delivered coke drinks for local customers in Yangon, Myanmar, for the first time in more than 60 years after US President Barack Obama sanctioned companies to do business in the Southeast Asian country also called Burma in July.
Welcoming the move, the company has made the first deliveries of the Coca-Cola product in the former Burmese capital.
"In every nation and city where we do business, our employees strive to create economic value and build sustainable communities. We are privileged to once again have the opportunity to play a role in building a better future with the people of Myanmar," Muhtar Kent, Chairman and CEO, The Coca-Cola Company, who was in Yangon to oversee the delivery, said in a statement.
The move by Coca-Cola, the world's largest beverage company, is seen as a positive sign for enhancing business and trade ties between the US and the Association of Southeast Asian Nations, or ASEAN.
As the next step, Coca-Cola will collaborate with Myanmar's local soft drinks company Pinya Manufacturing Co Ltd to begin local production of coke so that the entire country gets the product as soon as possible.
"Coca-Cola has a general practice of operating as a local business in every market it serves, including selling, distributing, manufacturing and hiring locally," the company said.
The company will also boost its corporate social responsibility, stressing upon economic empowerment of women and job creation, in Burma by implementing a programme called WORTH along with Pact, a non-governmental organisation.
"WORTH will initially fund women interested in supporting a variety of businesses and Coca-Cola expects the programme to eventually identify women entrepreneurs interested in becoming independent shopkeepers and distributors of Coca-Cola products," according to an official statement by the company.
"Pact's efforts in Myanmar are consistent with Coca-Cola's existing global commitment to enable the economic empowerment of 5 million women across its global value chain by 2020 through an initiative known as 5 BY 20."