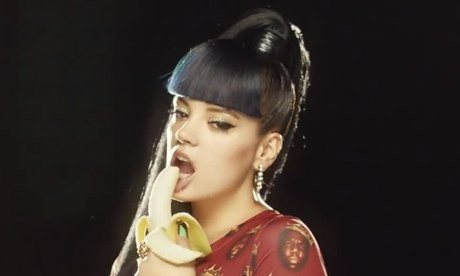 She is a wife and mother-of-two but even Lily Allen likes to show off her naughty side once in a while.
The Hard Out Here singer has shared a topless dance video of herself on Instagram.
In the 15-second clip, the 29-year-old star can been seen dancing in nothing but nude coloured spanx to Drake's hit Started From the Bottom. One arm covers her breasts while she films.
She captioned the video 'Cool mum #drakespanxdance', referring to the spanx which stopped just under her cleavage.
"What a joker," one fan said.
Another admirer wrote: "She can spanx me anytime."
But some critics accused her of attention seeking, with one writing: "You're supposed to be a mum, grow up."
Allen's impromptu dance performance comes weeks after she revealed that she sought professional help in therapy to cope with the pressures of fame.
''I had a session last week for the first time in a year," she told TheBeatJuice.com ''It helps get my relationships in order. I have quite a lot of complicated relationships.
"Lots of weird co-dependencies. And when I'm busy, things happen. I get quite confused about my place. I sometimes need someone to tell me I'm not a bad person.''